"Googan Squad" and the Comedero Big Bass Explosion
[Editor: this article first appeared on www.ronsfishingblog and may only be used by permission of Ron Speed Jr.]
LAKE COMEDERO KICKS OFF NEW SEASON WITH BIG BASS EXPLOSION!!!
Actually, the big bass explosion on Lake Comedero is picking up where it left off from last season… but I believe it's even better. If that is even possible? Well, let me share a few fish stories with you and let you decide. Back on Dec 10th, after just opening the camp to start the new 2017/2018 Season, we hosted the fast becoming famous "Googan Squad" guys. These guys are 6 young men who are the hottest thing on social media that primarily focus on fishing. The Googans made their way to Lake Comedero… their first experience on the lake. First they were taken by the incredibly scenic van ride and the beautiful surroundings. I've always said that not only is Comedero one of the best lakes in the world but it's also the most beautiful lake in the world. Enough with the beauty stuff, let's get to what really matters… THE FISHING… BIG BASS!!!
If you're not yet familiar with the Googan Squad gang, you soon will be. These guys do a great job with their videos on social media [see links on our VIDEOS page] and are VERY entertaining to watch! They're talented, funny, skilled, wise beyond their years and just a great bunch to be around. They were truly made for this stuff. Anyway, they were fully equipped for the fishing and beautiful surroundings of Lake Comedero. They brought top notch equipment to include the finest of drone cameras, video cameras, GoPro cameras and still shot cameras. Every day they were changing out batteries from first light until dark because there was just too much great stuff to film.
I brought pro anglers Denny Brauer, Steve "Big O" Parks, Terry Oldham and of course I was there for the week of fishing. Every day the four of us would switch out with a Googan angler. Our job was to provide them with our extensive knowledge of the lake and of course put them on big bass… and we did just THAT! Of the 6 Googan anglers, all but one caught his all time personal best (PB) big bass! Those PB's ranged from 8 lbs to 10lbs. Some broke their own PB several times during the week of fishing. These guys travel all over the world fishing and all said they believe Lake Comedero to be the very best big bass lake in the world… and definitely the best big bass lake they've ever fished!
As good as these guys are, they learned a new way to fish a spinnerbait on this trip… but not just any ol' spinnerbait, but rather an Oldham 1 oz spinnerbait! Many anglers through the years believe the only way to fish spinnerbaits is to beat the shoreline and fish in 2′ – 8′ of water. NOT ON COMEDERO! No, there were a lot of giant bass caught on this trip fishing that big 1 oz Oldham spinnerbait through brush tops in 10′ – 18′. Most if not all of the Googans told me they had never fished a spinnerbait that deep or with the "slow roll" method we used… but all were ready to go home and try it on their local lakes. This is why I love spinnerbait over all other lures and types of fishing… because it's so versatile and can be fished shallow or deep…. fast or slow… through brush or over humps. One can cover a lot of water using a spinnerbait and quite frankly, dating back to my tournament days, I primarily used a spinnerbait to locate areas concentrated with bass. Cover water, locate them, then work that area slower using spinnerbait and/or jig. If you're one of those anglers on Comedero wanting to get bit fast and furious by big bass, then don't forget to call Terry Oldham and order those big spinnerbaits. At the same time, order some of his 1 oz jigs as well because there are times those bass head below that "canopy" of brush and the best way to get to them is to punch through that brush with Oldham's heavy jigs. After morning topwater bite, I'll have 5 or 6 rods rigged the rest of the day with only Oldham 1 oz spinnerbaits and jigs. It's all I need for catching big bass on Comedero!
The last day of this unbelievable week of big bass action, I paired up with my good friend Denny Brauer. The night before I asked Denny, "Amigo, will you take me fishing tomorrow?" He promptly replied, "I was hoping YOU would take ME fishing tomorrow"… ahahaha… the two of us along with Big O and Oldham had been "guiding" these Googan Squad boys all week and the four of us "Pros" were wanting a relaxing fishing day with no pressure to put guys on fish or run the trolling motor. However, I beat Denny to the punch. Naturally he wouldn't turn me down and therefore agreed to run the trolling motor all day. I had fished with Denny on past trips but never with a "flip/pitch" or jig bite happening at the time. However, the day before Denny and I were to fish together, Denny had located some big bass… a lot of big bass… on one particular area of the lake and believed these big sows had made a "push" to shallower water… flip/pitch water and depths. About 4′ – 10′. Since most anglers all over the world know that Denny Brauer is a great bass angler and particularly a master pitch/flip with a jig angler, I wanted to see the master in action.
That next morning he stopped at two locations where he had caught big fish on spinnerbait earlier in the week. The first location was a long… very long, flat shelf with a lot of brush. He stopped way out on this shelf and told me to pick up a 1 oz spinnerbait. Oh yeah? Well twist my arm, Denny! LOL… yes, you all know how much I love fishing with those big 1 oz Oldham spinnerbaits. After about 5 minutes of slow rolling that big blade through the brush tops, I felt a major "THUMP"… uh huh… oh yeah baby… BAM, HOOK SET, FISH ON! This as definitely a net fish. After a solid half minute battle, Denny netted the big girl and she was 7 lbs, 15 oz… 1 oz shy of 8 lbs. Okay, that's a nice start. Back to it. After 15 minutes at that location and no more big fish on, we moved on to Denny's 2nd location… 15 minutes there with no bites and it was on to the area of the lake where he had found big bass on jig in very shallow water. We killed the big motor at 7:35 am and didn't crank it again until we were to head in to the landing at 5:40 pm. Why? Because we were hammering big fish after big fish all day long in that area. We finished the day with 21 bass over 7 lbs including several 9 lbs bass. All on 1 oz Oldham jigs in the Tilapia color and trailed with a Strike King Rage Tail Rage craw… in "that color" that only Ron Speed Jr's Adventures has… nobody else. See our October newsletter for details on how to obtain that special color for your trip with us. Anyway, it was a truly a special day of fishing on the water with the master and legend himself… Mr. Denny Brauer. He's a great, great angler but even a better person. If you know him, you will agree. If you don't, then I hope you have the pleasure of meeting him someday. Denny brings his friends twice a year to our camps on Comedero and Picachos.
To finish up with the Googan Squad trip… this was truly a special week of fishing and entertainment. All but one of them landed their personal best big bass of all time, and broke those PB's multiple times during the week on Comedero. They all were able to fish and film with legendary pro angler Denny Brauer and learn from one of the best in the business. They're all coming back soon for more filming and big bass fun. One of of them was so impressed by Comedero that he gave his father a trip with Ron Speed Jr's Adventures on Comedero for Christmas and will be coming with him next month. This was just a delightful young bunch to be around. They're young… so a lot of the older generation may not have heard of them yet… but just ask your sons/daughters, grandsons/grandaughters and I'm sure they'll tell you they know of them. These guys have a huge huge following because… well, they're THAT good! Check out the photos of the vast amount of big bass they caught during their week at Comedero. VERY IMPRESSIVE FISH!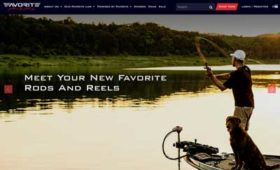 One of the Googan Squad members on this trip, my great friend Winston Tucker, owns Favorite Fishing U.S.A. I strongly encourage you to visit Winston's website https://favoriteusa.com/. There you will see Winston offers a lot of product and services in the fishing industry. From fishing apparel to rods, reels, lines, lures, etc, etc… you name it, Winston has it! Winston has been on several of my trips in the past 15 years, including trips to the Amazon for the peacock bass. In fact, Winston just returned from one of our trips to the Amazon this past fall where he and Googan member Justin Rackley spent a week of fishing/filming with our operation. You should go check out their videos on YouTube NOW! Winston is Favorite Fishing USA on Youtube and Justin is lakeforkguy… also on YouTube. The other Googans that made the trip to Comedero are Alex Peric (apbassin), Andrew Flair (flair), Robert Terkla (lunkerstv) and Jon Barzachi (Jon B.). Just an amazing group of young men that have tremendous passion for what they do. Again, they're very entertaining and I strongly encourage you to take the time to watch them on YouTube… and particularly their newest videos on Lake Comedero! Amazing big bass action footage along with some hilarious comedy thrown in. These boys kept me laughing hard the entire trip Go check 'em out!
LAKE COMEDERO BIG BASS EXPLOSION PART II…Jig, Spinnerbait AND TOPWATER BIG BASS!!!!
I just returned from Lake Comedero last week with a big group that was fishing 11 days. This is an annual event with these guys with most having fished with me for over 10 years and some for the entire 31 years I've been in this business. A great group of guys that go together every year to Mexico and Brazil with me. They're family. So with that, let's get to it, shall we?
Have you ever caught a largemouth bass on topwater? Would you like the opportunity to catch a big largemouth bass on topwater? Well right now Comedero topwater on big bass is as good as it gets! The shad population in the lake has rebounded and the big bass are feeding like crazy on them! Shad enhances the shallow water bite and particularly on surface lures. John Billy Koonsman and Ted Wayland fished topwater all day, every day for 11 days and caught big bass all day on topwater. In fact, John Billy caught his largest bass of the trip on topwater… a 10 lbs, 8 oz beauty! One day Ted Wayland landed 3 bass of 9 lbs including a 9 lbs, 13 oz on topwater… and he caught that big girl at 11:30 am just prior to coming in for lunch. The lake was "slicked off" with no ripple, sun straight up and rather warm…. but the topwater bite was still on!
One afternoon I was fishing with Jimbo Beard… who was actually making his first trip to Comedero. Jimbo has fished with us many times at Picachos but never Comedero. Jimbo really likes to fish topwater. We started the afternoon fishing jigs, plastics and some spinnerbait (me). We caught some nice fish but nothing really huge. About 4 pm, I asked Jimbo if he was ready to go throw some topwater lures because the shade was appearing on those high bluffs facing away from the west and sun. Which meant ideal topwater time was upon us. Naturally Jimbo was all for trying our luck with the topwater. I pulled the boat up to a big island that has been a "money in the bank" for me over the years and especially for afternoon topwater. Two hours later, we completed one full turn of fishing around that island. It was big blast after big blast… several 7's in the boat, several 8's in the boat and I lost 2 giants… but Jimbo had the big blast of the century. One exploded 2 feet behind his Yellow Magic topwater that got both of our attention. After a dozen or more casts back in there, Jimbo couldn't get the big monster to resurface. Now about that Yellow Magic topwater he was throwing…. Earlier, before the big monster hit, Jimbo was throwing another popper type lure that a biggun took away from him. He didn't have another popping lure in his tackle bag. He said he would just throw that big worm he had been using earlier in the afternoon. I told him "FORGET THAT! I have plenty of other topwater lures for you" … so I opened my topwater box up and handed him a bone-colored Yellow Magic. On his first cast with it, he got blasted by a big bass. A beautiful fat 8 lbs, 5 oz TOAD! Turns out that was Jimbo's biggest bass ever on topwater! On Comedero, that's just another bass as anyone who has fished that lake in past years knows that it was common to hook and land double digit size bass on topwater. I've always said that Comedero is not only the best big bass lake in the world but it's also the best TOPWATER BIG BASS LAKE IN THE WORLD! Now I haven't said that in the past two years since reopening our camp because while we were closed for a number of years, the population of shad had decreased significantly and the topwater action the past two years has not been like the old days prior to us closing. However, it's quite obvious that those shad have made a return and so have the big bass to the surface. It's now like the "Old Comedero" … A TOPWATER ANGLER'S PARADISE FOR TROPHY BASS!!!
Now for the best story of the trip… in fact, it's one of the best days of fishing by two anglers in one boat ever… on any lake. At least that I've heard of in all of my years of fishing. On January 3rd, Dave Thompson and George Harris were fishing together. They were fishing that area of the lake where Denny Brauer and I had caught the 21 bass over 7 lbs while flipping jigs all day. Those bass, if you remember from reading my earlier report on the Googan's Squad trip prior to Christmas, had made a push to shallow water and were just starting the pre-stage for the spawn. By the time we returned with this annual group on Dec 28th, those bass were just a few days away from full-blown spawn. Dave and George decided to focus on shallow water flipping and pitching Oldham jigs. Boy, did they make the right decision… or should I say, boy, did their guide make the right decision! I ran into them around noon as we were staying on the lake all day and took a lunch in the boat with us. Dave and George at that time (noon) had experienced a solid morning of fishing with already a few 8 lbs bass in the boat and even one 9 lbs bass… but the best was yet to come that afternoon. After lunch, they moved back into a large bay off the river and began flipping/pitching 1 oz Oldham jigs with "that special color" Rage Craw as a trailer. After about an hour into their afternoon session, they left biting fish to come get me because they said I wouldn't believe what they had found and all the big bass they were catching. I followed them to the area and they immediately resumed hooking big bass after big bass. I've seen a lot of big bass caught on Comedero. I've caught a lot of big bass on Comedero. There's simply not much I haven't seen on Comedero that would shock me or impress me more than I've already been impressed… but I must say that afternoon was a jaw-dropping experience. These guys were horsing big bass after big bass out of isolated bushes in mostly 4′ – 10′ of water… big sow bass! I just watched in "awe" … it was amazing (and very entertaining) to witness. Seeing and hearing two of my good customers holler, yell, give high five after high five… let's just say their guide was very, very busy with the net that afternoon! So what was their end-of-day total on big bass? Well, I can only report what they caught over 8 lbs because 5 – 7 pound bass just didn't seem that important to keep track of… even though there were a lot of that size too. So here it is… on that one day, Dave and George landed bass of 11.5, 11.3, 10.9, 10.7, 10.5, 9.14, 9.14, 9.11, 9.11 and 9.8. THAT…IS JUST THE BASS THEY CAUGHT FROM 9 LBS AND BIGGER. They also added 6 more bass in the 8-lbs class. Then like I stated, just too many 5 – 7 lbs bass to keep track of… and I don't think their guide bothered picking up the landing net for those "small" bass. LOL. Seriously, that's just insane! But as insane as it sounds and is… I can tell you it's a FACT! No fish story! It's posted on our Comedero Reports on our website and I'll be more than happy to hook you up with one or both of these guys to get their side of the story.
This was just another one of those amazing bass fishing experiences on the fabulous Lake Comedero. It's really becoming a common theme and just another day at the office for that lake! No question, no doubt, no fish story, this lake IS THE BEST AND HOTTEST BIG BASS LAKES ON THE PLANET RIGHT NOW! Come experience it yourself! As we all know, the fish on all lakes and bodies of water don't bite every day and fishing changes due to the many variables that impact fishing… Mother Nature being just one of those variables. However, this lake has been consistently great for a while now and I encourage you to get in on this great fishing while it lasts. History says great fishing won't last on any lake in the world but right now Comedero is kicking History's butt six ways from Sunday. Still…GET THERE. NOW!
There you have it folks… the very latest on Comedero. Since this update required a longer read than normal, I'm going to give you just a short break from reading and deliver my Picachos and El Salto report in a few days from now. There's MUCH to report on those lakes too, so be sure to check back or check your e-mail for updates on those lakes. If you haven't yet signed up to receive our E-Newsletter updates and are just reading this from a visit to our "Blog" page on our website, I strongly encourage you to take ONE minute to sign up. It's free and does not require more than a minute to sign up.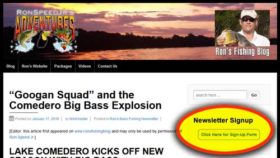 On our Blog page, see at the top right "Newsletter Signup"…just below it you will find "Click Here for Sign-up Form" …click that and then enter your e-mail address in the box provided and then click "Sign Up"… you're almost done but not quite. Then go to your e-mail inbox that you provided for the sign up form and find an e-mail message from "Ron's Fishing Blog"… open that and click the confirmation link provided. By doing this, and it's mandatory to complete the sign up, you are confirming that you did indeed want to start receiving my E-Newsletter updates. Once you click that confirmation link, you're done! You'll then begin receiving all of my Brazil Peacock Bass Updates and also all of my Mexico Bass Updates. I send out updates almost every month during the fishing season in Mexico and every other month during the months we're shut down for the monsoon season. By signing up, you're ensuring that you don't miss any updates on the very latest on our fishing operations.
Ok, soak this one in because it's a great one… and then get ready for the next update for El Salto and Picachos in the coming days!
Call us today:800-722-0006
GOOD FISHIN',
RON SPEED, JR.
PS, HERE ARE SOME MORE PHOTOS OF THE "GOOGAN SQUAD"