Lake Picachos Newsflash!
[Editor: this article first appeared on www.ronsfishingblog and may only be used by permission of Ron Speed Jr.]
PICACHOS ON FIRE…GET HERE NOW!!!
I am currently here at Lake Picachos and had planned to send updates upon returning home but this news is too AMAZING to wait any longer!
First off, we have seen all season how much the overall size of fish have grown from last season to this season. The numbers have always been outstanding. However. I have never seen the fishing this great since we opened our lodge 4 years ago! Seriously, this is too good to describe in words!
I am here with 3 husband/wife couples and 10 other men anglers, 4 of them who brought their sons and one of the couples was a daughter and son-in-law. Every boat and I mean EVERY BOAT, is averaging 80 – 125 in the morning session and another 80 – 125 in the afternoon session! Most of the boats are catching in excess of 200 bass per day!!! Some in excess of 250 per day!
That's not the best news though…it's the outstanding size of the bass. For example, one gentleman that's here with his son fishing told me last night at dinner, "Ron, my son and I had a day of a lifetime fishing today. Yesterday I thought we had a fishing day of a lifetime and we did…but today we topped yesterday! Today we boated 227 bass but 80 or more of them were in excess of 4 pounds, and both of us landed bass of 6 and 7 lbs!"
That is just one story for one day, one boat! Everyone is coming off the water at both lunchtime and in the evenings, telling amazing stories of their day's fish catches. Yesterday one of our customers landed a fat 9.5 lbs bass on a silver shad colored crankbait in 15′ of water!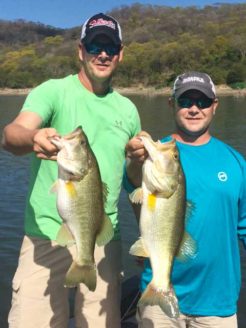 I could go on and on with numbers of our incredible catches but it would simply be repeating and monotonous to do so. What I will say before I head back to fishing is that I am so confident in the great fishing continuing until monsoon season begins (July in most years) that I am going to offer a couple of "special deals" for those that book to fish with us at Picachos between now and July 15th.
Special #1: Anyone wanting to bring their kids or grandkids of ages 21 and under, only pay half price for the kids/grandkids…and the parent or grandparent receives a $200.00 discount off the regular package cost!!! The kids are getting out of school soon and I believe you could not reward them with a better summer vacation than a fishing experience of a lifetime at Lake Picachos! Additionally, you could combine some surf & turf action with the beautiful beaches of Mazatlan!!! Even add a day of awesome saltwater fishing too…if you have any energy left after fishing Picachos? Might consider doing the saltwater FIRST!
Special #2: Husband/wife combo…same as Special #1…one at half price, the other at $200.00 off regular package price! Offer lasts until July 15, 2018.
Special #3: No wife or kids/grandkids? No problem. All adults over the age of 21 will receive the $200.00 discount to come fishing with us at our lodge on Lake Picachos from now until July 15, 2018!!!
This is as good as bass fishing gets, folks! It's not only a chance at bass fishing of a lifetime but also at a cost of a lifetime!!!
Also, this is the easiest and most hassle-free trip for bass fishing in Mexico as Lake Picachos is the easiest lake to access. It's only a short 50 minute ride in a big comfortable air conditioned van. The biggest and nicest lodge on the water…meaning lakeside…with the finest boats/motors, best food…on the best numbers bass lake in the world!! Lake Picachos is great for any and all types of bass anglers but it is ABSOLUTELY PERFECT FOR TREATING THE FAMILY AND KIDS!!!
Ok…enough said! I'm headed back out to get my line stretched again…probably another 100 times before dark!
GET HERE FOLKS…IT'S UNBELIEVABLY FUN, FUN, FUN!!!
Call us today:800-722-0006
GOOD FISHIN',
RON SPEED, JR.