Winter 2023 Mexico Update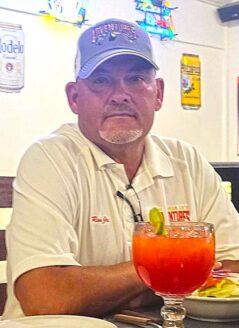 [Editor: this article first appeared on www.ronsfishingblog and may only be used by permission of Ron Speed Jr.]
WE HERE AT RON SPEED JR'S ADVENTURES WANT TO WISH EACH AND EVERY ONE OF YOU A PROSPEROUS AND BLESSED 2023!!! WE CANNOT THANK YOU ENOUGH FOR YOUR CONTINUED LOYALTY, SUPPORT AND TRUST IN OUR FISHING AND SERVICES! GOD BLESS!
LAKE PICACHOS STARTS 2022/2023 SEASON WITH A MAJOR BANG!!!
Folks, the bass are growing up in Picachos! Actually they have been growing every year as far as average size but now we're seeing more and more in the "trophy" size being caught by our customers! When I say "trophy" I mean 7 lbs and larger. I visit with a lot of our customers in person at the lakes as well as by phone after their trip and you would be shocked at how many have told me that they've bass fished for 20+, 30+ and even 40+ years and never caught a bass 7 pounds and larger! We hope to change that for all that have never experienced landing a bass that size…and bigger.
First let's talk about numbers because "most" that choose to fish with us at Picachos are choosing numbers over size.
David & Cindy Bednar fished from November 22nd to Dec 2nd (1/2 day on Dec 2nd)…and in 10 1/2 days of fishing, this great husband/wife landed 2,920 bass! Their largest was 6.18 lbs. Landed many 4 and 5 lbs bass. Also, and this is eye popping…In the 10 full days they fished, 5 of those days they landed over 300 bass. The other 5 days they landed 210,154, 203, 258 and 293. Then their last day of fishing which was only a 1/2 day, they landed 246 bass! Yes, in 1/2 day of fishing!!! These two fish every year with us and usually 2 – 3 times each year. They just love Picachos and the great action it provides. I think they love our manager (Little Jorge), staff, guides, food and service just as much as the fishing. We love Cindy and David too!!!
J.W. Peterson took 10 anglers to fish at Picachos from Dec 10th – 14th. J.W. and his partner Mike Sanders landed 789 bass in 4 days of fishing. According to J.W., most of their bass were 3 – 6 pounds with many in the 4 and 5 lbs category.

Now let's talk about the increase in size of the bass in Picachos…
About 2 weeks ago, we had 14 anglers at our Picachos Lodge and on January 4th, Cory Rose and Todd Harrington landed 190 bass in one day. Their 4 largest bass weighed 10 lbs, 9lbs, 8 lbs and 7 lbs! That's a great sign that not only has our average size increased at Picachos but the trophy size bass are really starting to show up as well.
On Jan 2nd, Logan Zimmerman and Amanda Kesler landed 250 bass in one day with their biggest weighing 6.12 pounds…but LOTS of 3 – 5 lbs! The next day Logan and Amanda landed 270 bass in one day with their four largest weighing 7.0, 7.0, 6.5 and 6.3. Logan's largest Picachos bass this trip weighed 8.0 lbs (see photo). These numbers do not include the many bass they landed in the 4 and 5 lbs range. Again, it was A LOT.
Also on Jan 2nd, and this goes back to the incredible "numbers" of bass in Picachos…Steve Cummings and his son Payton fished only 1/2 day their last day…they only caught 300 bass by noon! That's right…you did not read that wrong…this father and son landed exactly 300 bass by noon (1/2 day of fishing). THREE HUNDRED!!! Picachos never ceases to amaze me and we've seen some incredible catches over the years, but this one caused me to call Steve upon his return to verify. Steve told me when asked about their incredible catch, "Yes sir, Ron…we caught 300 by noon. Our guide pulled the trolling motor up at 11:50 and said 'Lunche'…but we told him no way we're going in for lunch before we get to 300 bass. So we fished another 10 minutes or so and got our magical 300" There you have it, folks…straight from the horse's mouth! Steve's son had never been to the lake nor had he been to Mazatlan. Steve wanted him to enjoy the whole experience and not just catching bass but also experiencing the gorgeous 5-star beach resort of Mazatlan. Otherwise they would have fished a full day that last day. Makes me wonder what their total catch would have been had they fished for an entire day? That's just another incredible story a customer has shared with me over the years about the amazing fishing at Lake Picachos. It just keeps getting better!
UPDATE (Jan 30): As I was finishing this portion of the newsletter/update, I received today's fishing report from Lake Picachos…and it's a dandy! Please read…
Today, Mitch Frankfurt and his partner Ed McGehee landed 88 bass…but their four biggest bass weighed 8.8 lbs, 7.2 lbs, 6.8 lbs and 6.1 lbs. That's not all….they also landed 21 bass over 5 lbs!!! That's just more evidence of the bass growing up in Picachos!
Also today…Gary Manos and his partner David Pigg landed 48 bass. While that doesn't seem like a lot, especially for Picachos, Gary called me tonight to tell me they were targeting bigger bass out in deeper water. Well they found them…in 20′ – 30′ on Carolina Rig Fluke. Gary landed bass of 7.9 lbs, 7.3 lbs and 7.65 lbs..but told me lost at least 5 more that were that size and bigger. Gary's partner (David) landed bass of 6.5 lbs, 6.0 lbs and another 6.0 lbs. David lost 2 more bass he said were of that size and bigger. So that's 6 bass landed of 6 – 7 lbs with 6 more of that size and bigger LOST! I've said for years that Picachos has the big bass and even over 10 lbs (lake record is 13 lbs 14 oz) but most of the time, one has to change how they are fishing in order to find those bigger bass. That's been true and still true today BUT…we're seeing more and more big bass work their way to shallower depths.
We're really just getting started with the "main season" as everyone wants to come from January through April (cold here in the U.S.)…even though the fishing is just as good in all other months. This has started out as our best season ever on Picachos and I don't see the fishing slowing down. Nobody leaves Lake Picachos unhappy…NOBODY! Get there while this incredible lake is on fire! Picachos has yet to hit it's peak…and that's just hard to believe after being open 9 years! The big bass are really starting to make their presence known!!!
EL SALTO NUMBERS HAVE RETURNED WITH A THUNDEROUS EXPLOSION…BEST IN THE PAST 5 YEARS!!!
While we haven't hosted a lot of anglers this fall or prior to the New Year, we've hosted enough to honestly say the number of bass and daily action has returned…and I'm talking better than I've seen in at least 5 years or more! We're seeing our boats (2 anglers per boat) averaging 80+ bass per day BUT…there have been many land over 100 bass in a single day. That did not happen last season…and if it did, it wasn't too often. Last year. for the most part, the numbers were dismal…to put it lightly. The big bass catches were great between January 20th and until the first few days of April. Then we saw something happen that I've personally haven't seen in the 33 years of operating on El Salto…and that was when the Tilapia started spawning in early April. Literally billions of them in big dark clouds (schools) all over the lake. In "most" years, the Tilapia start spawning in May…and usually the latter half of May. That wasn't the case last season/spring. What this caused was a major decline in the number of bass caught each day. It was the smaller bass catches that were affected the most as it did not take the smaller bass to fill up on the tiny Tilapia …and most of the time it was in the first 15 minutes of the day. Then we would experience one more bite of 15 minutes in the afternoon. THAT WAS IT! I was there most of May and half of June fishing the lake and my fishing partner and I would average 10 bass per day BUT…most of the bass were 6 lbs and larger to include several in the 8 – 10 lbs class each day. It was the first time in my life and fishing Mexico for 45 years that I caught more trophy bass on a trip than smaller bass under 6 lbs. The big bass would fill up quickly each day but naturally that bite lasted a tad longer. So my partner and I just sat on my favorite big bass spot the entire day and waited for those big ones to move out of the super deep and feed on the shallower feeding shelves….usually two 30 minute bites each day. That early big Tilapia spawn was GREAT for the future of the lake…but terrible for the short term and our end of season customers.
Now on to this season…as I stated, the overall action/numbers have returned to El Salto with a fury. The bass are in great shape. The only fish that have been missing (at the time of this writing) are the bigger bass 10 lbs and larger. It appears as though we didn't have many bass spawn on the full moon in early January. That means February "could" be incredible…as well as March (the third and final month for bass to spawn). The majority of "bigguns" have weighed 5 – 7 lbs. Most would not complain with that when coupled with the great action. Tom Overbeck just returned Saturday after fishing 4 days last week. Tom caught numerous bass between 5 – 7 pounds. Tom told me he PERSONALLY CAUGHT 325 bass in 4 days of fishing and nearly half of his catches weighed over 4 lbs. Tom told me the bass are FULL OF EGGS. So the upcoming moon should see a lot of giants being caught. I'm just glad to see the incredible numbers of bass come back after last year's low numbers and action. Mind you, these numbers aren't a bunch of "dinks"…small bass. Nope, all good quality size bass!!!
Ric Younkin, who fishes with us every year, arrived last Friday and his first day landed 60 bass total with a fat 9.2 lbs toad. Then yesterday Ric hit the jackpot again landing a 8.8 lbs lunker with a total of 111 bass…FISHING BY HIMSELF BOTH DAYS! So Ric has only fished two days and already landed 171 bass with two bigguns over 8 and 9 lbs…and a bunch of 5 and 6 pounders! We're still waiting on those 10 – 11 lbs bass that our anglers come for when choosing El Salto. They're still there and I believe it's only a matter of time given we're really starting the main "spawn" time…tick, tock, tick, tock.
Oh and one more thing…we rebuilt the bar next to the big Capuli Tree. Now it's even nicer to have a cold drink, watch your favorite sports team on the TV mounted in the tree…and of course play CORNHOLE. Yes, those of you that haven't visited us at El Salto in the past year, we now offer Cornhole Boards for playing. I've never played and never heard of it until my office/sales manager Bill Mullins recommended we build some boards to offer at El Salto. He was right too as many of our customer groups love playing Cornhole. Bill is "supposedly" the Cornhole King around our parts or locally. Personally, I can't get into it….probably it's "the name" that gets to me. Yeah, that's probably it.
LEW'S RODS ARE THE BEST FISHING RODS ON THE MARKET…AND WE OFFER THEM AT ALL OF OUR LAKES/LODGES!!!
Yes, folks…our lodges in Mexico and our Peacock Bass operation in Brazil, offer Lew's Rods so you do not have to lug those big heavy rod cases through airports. We do not offer any reels for your trip as they are small and very light so as to be able to pack in your luggage. However, if you're looking to buy the best reel(s) on the market, you will NOT find a better reel than those Lew's offer.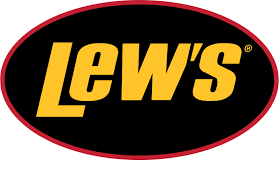 For those who possess an unquenchable passion for fishing, the rods and reels of Lew's boast the finest materials, elite craftsmanship, and a built-in legacy of over seventy years of exceptional performance. Ron Speed Jr's Adventures partnered with Lew's 3 years ago and we could not be any happier. Our customers tell us the same thing and many of our customers return home wanting to purchase Lew's rods and reels. The team at Lew's made it their mission to offer our guests the perfect cast, the smoothest retrieval, and the unmistakable feeling of fishing the best.
In 2023, Lew's launched the highest achievement in baitcast performance with the all-new Elite-Ti. Pronounced casting distance, unprecedented palming control and comfort, and machined for on-the-water excellence. The Elite-Ti's exceptional performance is matched only by its brilliant black titanium aesthetic, overlaying a powerful, yet lightweight, all-aluminum frame. With the Elite-Ti, Team Lew's has reimagined a casting system that breaks barriers and boldly sets a new standard of casting excellence. Lew's exclusive ParaMag™ Braking System eliminates typical magnetic interference, creating a longer cast with complete spool control. The angler is in full control of the cast in all wind conditions and with all lure weights. The Elite-Ti represents the perfect intersection of striking form and second-to-none functionality. Redefine exceptionalism on the water with Team Lew's.
Team Lew's new Elite Rod offers the perfect balance between overwhelming rod strength and cutting-edge sensitivity. It is subtlety and power all at once. Extreme sensitivity for sensing the slightest lure movement and the softest strikes. Powerful hooksets. A strong and durable tip. All at the lightest weight and thinnest diameter. There is simply no finer rod for elite-level performance. This year, Lew's is pleased to unveil eight Elite Series casting models and five Elite spinning models to put the angler in charge of the chase in any fishing scenario. Sensitivity and power in a beautifully refined package. When only the best will do, reach for Lew's.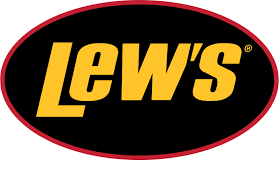 For a wide range of products to meet every challenge on the water, visit Lews.com and learn more! You'll be very happy!!!
ATTENTION DEER HUNTERS…IF YOU WANT TO GROW BIGGER BUCKS, YOU NEED TO READ THIS SECTION!!!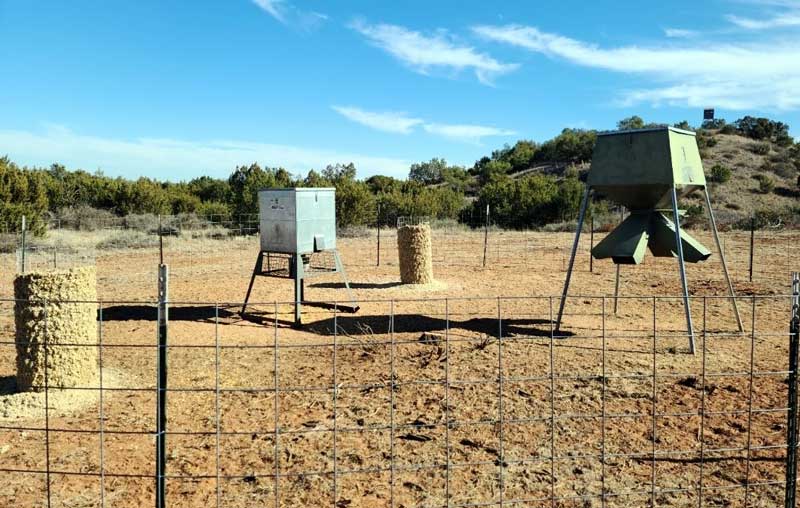 Many of you that know me personally, know that I am an avid deer hunter. I have been for 40+ years! Early on in my younger years, I was what most refer to as "a meat hunter"…meaning I didn't care if the deer was a 6 pt or an 8 pt or a 10 pt trophy. I just wanted to kill a buck. If a buck wasn't available, I'd shoot a doe for meat. It wasn't so much that I liked eating venison (I've always loved the taste of venison), it was about coming back to the deer camp after a morning hunt or an afternoon hunt, with a deer in the back of my truck. As time passed and continued with my chasing after the deer, I graduated to more of a trophy hunter. The desire for a trophy buck was there, but due to time and of course money, I couldn't travel all the way to south Texas to just hunt the weekends. Just too far…and of course, in my early years, I couldn't afford it. So most of my life, I've hunted west Texas…the first 20 years in Coleman County and now the last 20 years in Mitchell County…which is just two counties west of Coleman.
My current lease (2500 acres) is between Colorado City, TX and Robert Lee, TX (just north of San Angelo). I took that lease over 13 years ago. The hunters that had it leased before me must have been all "meat hunters" as it was overrun with your "run of the mill" 8 pt bucks…with many being cull mature 7 pt bucks. However, I saw enough evidence of 10 pt genetics to know I had something to work with…and hopefully change those genetics. So the first 4 or 5 years, I told my group of 5 hunters that trophy bucks were off-limits. Trophy being 10 pt or bigger…both juvenile and mature 10's…DO NOT SHOOT! So we spent those first 4+ years just knocking down culls and of course taking our doe limits. We also began feeding protein pellet 9 months out of the year. After a few years, we started to see "some" improvement in our antlers and genetics and therefore we kept with the same feeding program for the next 7 years. Now we're 10 years completed and to be honest, I wasn't too pleased with what we were doing. We had A LOT more 10 pt bucks and bigger on the lease but they seemed to be lacking mass and length. We had fed the protein pellet (20% minimum) long enough that I felt like we should have more bucks scoring 150 and even 160 or more. We would see a few each season on camera that would score 150 or better but most of our mature bucks (5 years and older) were topping out in the high 140's. So three years ago, we added cottonseed from a local cotton gin. It was dirty, dusty and just plain nasty to work with…filling bags with cottonseed out of the big trailer we had it stored on. Dust getting up in the nose and eyes caked up with that dust. I knew there had to be a better way to feed cottonseed.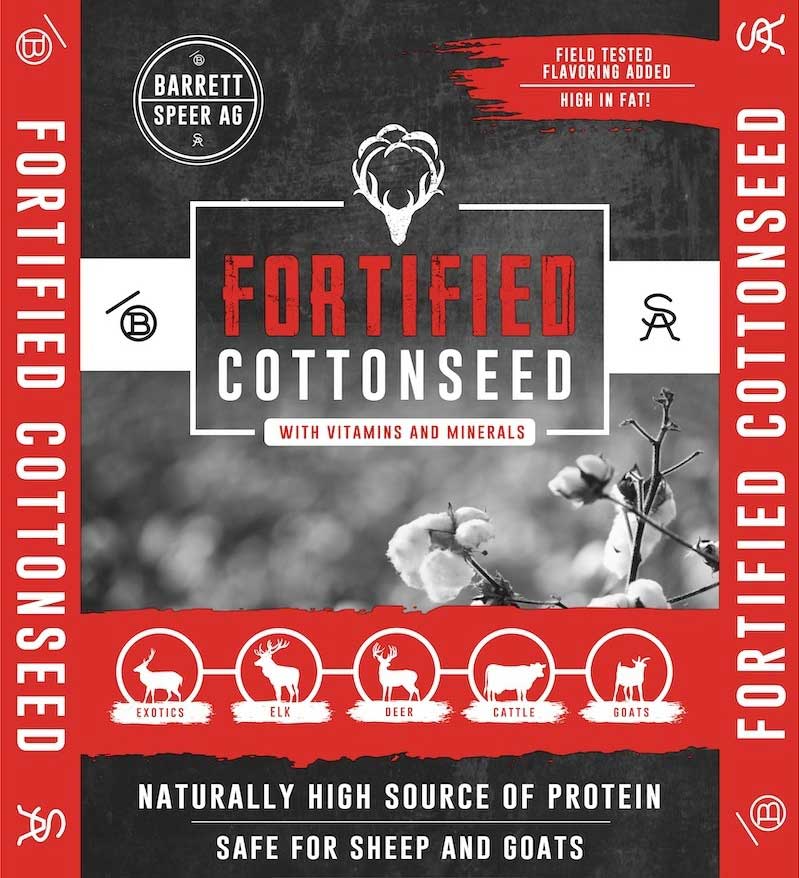 Two and a half years ago, I was in the Tractor Supply (TSC) store in Sweetwater, TX. I saw they had 50 lbs sacks of cottonseed with vitamins and minerals AND 20% protein…which is plenty since a deer won't absorb more than 20% anyway and actually less than 20%.. It said "Fortified Cottonseed" and I decided to purchase a pallet (40 bags). We started feeding this clean cottonseed in hog wire rings we made (see photo). Like anything new, we had to "entice" them to start eating it. While it offers an attractant in it, we doubled up by spraying it with a liquid apple flavored deer attractant. After about 3 months, we saw the cottonseed feed rings starting to go down faster…meaning they were eating more of it. We fed it in addition to the protein pellet for 9 months (January through September 2019). The next year we started seeing a MAJOR improvement in mass/length with the antlers. We also saw our deer MUCH HEALTHIER…to include the doe. We continued this feeding program for two years until I had seen all I needed to see. THIS STUFF WORKS AND WORKS TREMENDOUSLY! In fact, it works so well that we've dropped feeding the protein pellet and now feed strictly Fortified Cottonseed made by Barrett/Speer Ag in Hale Center, TX John Sewell of Harris Ranch/Turkey Creek is one of many. John's deer are doing great on this magnificent Fortified Cottonseed! If you'll visit their website https://fortifiedcottonseed.com/ , you can watch John Sewell talk about the success he's had with it.
This Fortified Cottonseed not only helps grow big antlers but it's cost effective in that the deer fill up on it rather quickly…as where with protein pellet, they literally gorge themselves but doesn't produce nearly as good as the fortified cottonseed. Therefore you spend WAY MORE money feeding protein pellet than you do when feeding THIS cottonseed! It saves you money and you get better results! Add to that…anyone that feeds protein pellet like I "have" knows the cost of that stuff has gone SKY HIGH in the past 12 months! This cottonseed is "FORTIFIED" with vitamins, macro/micro minerals, and unique flavoring. These levels help support the development of the fawn, the milk production during lactation, and antler growth. Fortified Cottonseed by Barrett/Speer Ag is all you need. TRUST ME! Give them a call today! Office: 806-839-2122; Cell: 806-724-5856.
A BIG THANK YOU…
I want to thank each and every one of you that called, text and e-mailed me to offer your heart warming condolences on my father's passing. I want you to know that I have read every e-mail and text that was sent and it meant so much to me and my family…to include my Mom. I thank you all so much and know that even though I have not been able to respond to all messages, I have read them ALL…and will eventually get around to responding to 100% of them. We're talking over 1,000 condolence messages. I'm responding to each one in order received. In the meantime, please accept my HUGE "THANK YOU"…and with much love! God Bless!
Good Fishin',
Ron Speed, Jr.