Brazil Peacock Bass June 2013 Update
[Editor: this article first appeared on www.ronsfishingblog and may only be used by permission of Ron Speed Jr.]
Book Trip To Brazil With RSJA, Earn ½ Price Trip To Mexico!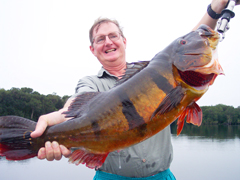 That's right folks! Book a peacock bass fishing trip with Ron Speed Jr's Adventures for the Fall 2013 and Winter 2014 Season and earn a 50% discount to our camp on beautiful Lake El Salto, Mexico…the best bass fishing lake in the world today! The half price trip to El Salto will be available to use until July 2014! You won't find a better peacock and bass fishing trips deal anywhere else at any time! We believe we offer the best of both fishing excursions…from fishing, to service, to safety and years of experience! Call our office today to get in on this deal before it's too late and space is gone! 1-800-722-0006
Rivers Fished By RSJA Offer THE BEST Peacock Bass Fishing!!!
In a recent update, I mentioned that the areas we fish during September and October have very little pressure and offer the most consistent good water levels in the Amazon…which means the most consistently good fishing! These two tributaries of the Amazon generally do not have rising water during the Sept/Oct fishing season. We may start out in early September with high water but most of the time, the water will be on a steady fall each day/week from that point on. Those who have fished the Amazon Basin for Peacock Bass know that falling water conditions are what you want…what you hope for during your trip! This is why almost all of our trips to these two rivers (they flow together) produce good numbers and great size every year! Some anglers want trophies first and foremost. You can get that with us on these two rivers. Other anglers want numbers first and foremost…you can get that as well. Some want both…well, need I say you can get BOTH?
That's right…you can! Many anglers who have traveled to the Amazon for peacock bass fishing believe the Rio Negro to be the only watershed that produces great peacock bass fishing. Well, we fish the Negro from November to March and yes, it definitely offers great peacock bass fishing. However, we believe the two rivers we fish (not part of the Negro) during September/October are THE BEST for those two months! We have fished this area for 20 years straight…and for good reason. That should tell you all you need to know! There's still time for you to get in on this coming Fall Season and experience the great fishing that these two fantastic fisheries have to offer! We have a couple of trips that have suffered from recent cancellations that we will be able to offer a discount for those who take over the space. Call today for more details!
Call us today and get in on the great fishing Ron Speed Jr's Adventures has to offer in both Brazil and Mexico. Don't miss out on a golden opportunity to fish for peacocks with us in Brazil and earn a half price trip for the best bass fishing in the world at Lake El Salto, Mexico!
Good Fishin',
Ron Speed, Jr
Ron Speed Jr's Adventures, L.L.C.
1-800-722-0006