December 2012 Update
[Editor: this article first appeared on www.ronsfishingblog and may only be used by permission of Ron Speed]
Mexico – Lake El Salto
We are just getting started with our fall fishing season on Lake El Salto! After having our best fishing in 22 years on El Salto last season, we're anxious to see what 2012-2013 has in store for our valuable customers. Last season was not only the best fishing we've ever experienced on El Salto but it was also the lowest water levels on record. By May, when the gates closed at the dam and the taking of water from the lake for irrigation ceased, the lake level reached an all-time low of 12%. That made for a nervous 1.5 months around here, 1.5 months till the monsoon season was due to start. We had started the previous season, October 2011, with 50% water in the lake. The lowest the water level had ever been when coming out of the monsoon months. So with us having 12% water in the lake last May, we knew we MUST receive more rainfall than average monsoon years, just to get to our yearly goal/wish of 70%. Well, GREAT NEWS…. The lake level as of October 1 was right at 80% and now we're right at 70% at the beginning of December. Why is this great news? For one, we have been operating on El Salto since the lake opened in 1990. We've also had an operation on Lake Comedero (located up in the mountains above El Salto) since that lake opened in 1987. We have found that our best years of fishing have come when the lake levels were around 70 – 80% coming out of the monsoon…on BOTH lakes! Also, yes…we had our best year of fishing ever on El Salto last year and we started with 50% water in the lake coming out of monsoon. However, it's not good to have back-to-back years of low water level for the simple fact that oxygen depletion could happen and thus cause a lot of fish to die. We didn't see any signs of a "kill off" this past Summer. That's great and all of those bass are still there and waiting for YOUR lure! Once again, the best news we could have hoped for has happened…perfect water level for this 2012 – 2013 season!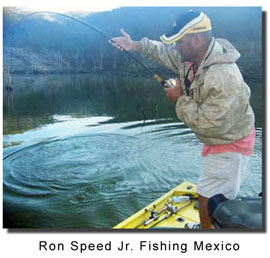 December and January are our coldest months of the season. Once the nights start cooling down around late November/early December, that cools the water temperature on the surface, thus bringing a lot of bass into shallow water. That translates to great TOPWATER action as well as shallow running crankbaits/spinnerbaits. That's when it gets really fun for our anglers! The topwater bite is just starting up now as I received a report from Lupe this morning, stating that there were two bass of 9lbs+ caught yesterday, with one of those on spinnerbait, the other on Zoom Lizard. However, Lupe also informed me that there were 3 bass of 7lbs landed and all were caught on topwater, two in the morning, one in the afternoon. So it looks as though the shallow water bite is just starting!
Also, remember that we get three months of spawn on El Salto. Generally speaking, in most years we see 40% of the lake's bass spawn in January, another 40% in February and a late spawn of 20% in March. However, the past three years, it's been about even in all months. I can't tell you why the change but that's just the way it's been recently. Anyway, with the spawn coming up, that means these bass will be gorging themselves during December and early January, as well as going through pre-spawn. This is when the bass become very territorial and you not only catch bass from feeding strikes but also territorial strikes. So NOW is the time you want to be there! The next four to five months should be very exciting on El Salto! We still offer the most competitive prices on the lake and the most beautiful lakeside camp. We also offer what we feel are the best boats for fishing El Salto: 18′ Express Boats! These boats are equipped with huge front and back decks for two anglers, motorguide trolling motors, livewells, rod storage boxes, console steering and Yamaha motors! We also provide the best rods on the market, made by Temple Fork Outfitters! This way our anglers do not have to tote huge rod cases through airports while flying to Mexico!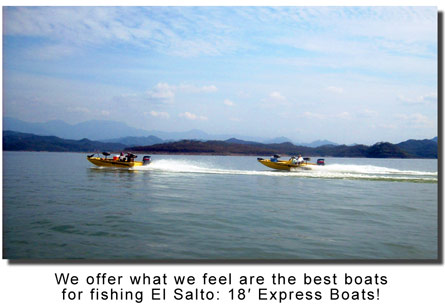 If you missed out on the awesome fishing last season, here's your chance to get in on it again! Call us today to book your bass fishing trip of a lifetime! Lupe is waiting to sing his fool head off for you, whether it be "Guadalajara" or "Hard Days Night" or "When 'the" Man Loves 'the' Woman", he's ready to entertain you! Hahaha…God Bless Lupe. He's a one of a kind!  : )
Good Fishing!
Ron Speed & Ron Speed Jr's Adventures