February 2012 Update
[Editor: this article first appeared on www.ronsfishingblog and may only be used by permission of Ron Speed]
Mexico – Fishing EXPLODES at El Salto!!!
That's right, folks…the fishing has absolutely exploded at El Salto! We haven't had boats averaging over 100 fish per day at El Salto in many, many years…but that's exactly what's happening RIGHT NOW! Prior to closing the camp for the Christmas holidays, Ron Clark and his group of 10 anglers boated 2,726 bass over four days of fishing. Let me break that down for you…with two anglers per boat, that's an average of 136 bass per boat, per day! Just a few days prior to Ron Clark and his group's arrival, we had a small group of four anglers that fished for 3 days. That's two boats fishing and those anglers averaged about the same, 140 bass per day! Largest fish of those two groups was 11.1 lbs. J. W. Peterson's group of 23 anglers fished 4 days (Jan. 9-14) and they landed a total of 5,016 bass. These fish were not just "dinks" either as there were many bass landed in the 3-5 lbs range. Again, we have not seen numbers like this in years on El Salto. The average catch per boat, per day over the past 7 or 8 years has been around 60-70. Right now it's double from what it's been.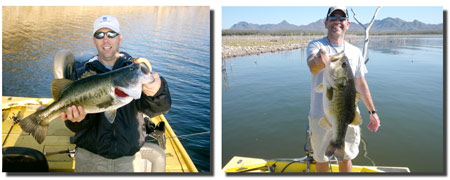 Why is this happening? Well, those who have fished many years, especially in Mexico, know how these lakes tend to "cycle"…although El Salto fishing has been very, very good in most years it hasn't been THIS GOOD in a long time. Also, last April/May, El Salto had one of the largest tilapia hatches in its 22 years. The fish are extremely healthy…FOOTBALLS!!! This should make for a phenomenal spawn and fishing over the coming months. The bass are definitely going to be heavier than in most years.
These opportunities don't come around often in a person's lifetime. We've fished and operated camps/lodges on many great lakes in Mexico, but El Salto ranks up there with the best of them. All of those lakes in the past are not great like they were years ago. El Salto has withstood the test of time and I believe it is better today than at any given time since it opened in 1990. We open our camp in October and close at the end of July. We anticipate the fishing to continue at this pace at least through the end of the season (July). Also, with the exception of our high season months (Jan.-Mar.), we offer the lowest 4-day fishing package prices on the lake. If you find a lower 3-day fishing package offered by any camp on the lake for the months of Oct.-Dec. and April-July, we'll match it! Our camp is located lakeside…with new houses, and with the best boats for fishing El Salto: 18' Xpress Boats! We also have an A-Team of guides with many, many years of experience. Our camp staff is second-to-none and will go out of their way to give you the best service possible!
Call us TODAY so you don't miss out on the bass explosion that's taking place on El Salto right NOW!
Brazil – Winter Season Kicks Off!!!
Our first group of January and the Winter Season for peacock bass fishing begins this coming week. I've just been informed that currently, the water level in the Rio Negro around Barcelos is near perfect! For those that have previously fished the Negro, you know that can change very quickly. However, it's always great to start with good water levels as it does have an impact on the fishing. Well, not just the water level, but whether or not the water is rising, stable or falling. If stable or falling, that's very good. Rising water, not so good. However, this is why we have always used a mother ship for our base accommodations. It's imperative when fishing the Amazon and its constant fluctuating water levels, to be mobile. It gives the best chance of not having a "washout."
The Otter houseboat that we represent is the very nicest in the Amazon for sport fishing! The Otter consists of 8 spacious cabins, not state rooms with bunk beds, but rather much larger rooms with two twin beds, a night table, desk, closet and a very large bath/shower! Each room has its own air conditioning unit so you and the other guest in your room can control the temperature in your own room. The dining area is closed in and also very spacious…with air conditioning. The Otter also offers two lounge areas on the third deck with bar and Jacuzzi and another lounge area on the fourth/top deck! The Otter also offers a tackle room. We provide all necessary tackle and equipment so you don't have to buy and bring any with you…which is a major convenience to our anglers, especially with the additional fees the airlines charge these days.


The guides are second to none! All of our guides have at least 10 years of experience guiding sport fishermen for peacocks in the Amazon. Four of our guides have been with us since the beginning (1993)…that's 19 years of experience in not only guiding, but also operating a bass boat in the Amazon. That represents safety…which has been, and always will be, #1 with Ron Speed's Adventures! The staff aboard the Otter is also second to None!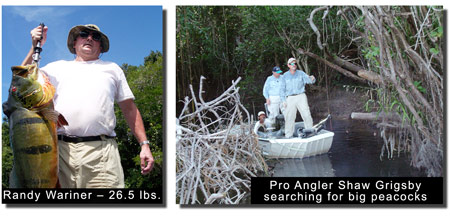 Last, we're offering a March 2012 Special, as well as, a Fall 2012 Special! For the March Special, we're offering the normal $4995 Winter/Rio Negro package at the normal Fall/Uatama package price…which is $4595 per person. For the Fall Special, we're offering the normal $4595 Fall/Uatama package to the first 32 (equates to two trips/groups) that book at $4250 per person. That's a $345 savings and more than covers tips or, even for most, the price of an airline ticket from home city to Miami!!! This will apply for trips where we have met our minimum number of paying guests. This will not last long after this mailing, and therefore, you need to call us ASAP!
Call us today to book your fishing adventure of a lifetime! 1-800-722-0006.
If you would like to receive our newsletters and updates by U.S. mail, please send us your mailing address.