Lake Comedero Summer 2019 Update
[Editor: this article first appeared on www.ronsfishingblog and may only be used by permission of Ron Speed Jr.]
LAKE COMEDERO CONTINUES TO PROVE IT'S THE BEST TROPHY BASS LAKE IN THE WORLD!!!
This past season was another banner year for Comedero and the many anglers that made their way to this beautiful mountain lake! While the lake encountered many "obstacles" early in the fishing season (November/December) with major snow melting from the mountains above the lake in Durango state, the lake still produced big bass on "most" days!
As stated, early on during the first two months of the fishing season, the mountains above the lake where the main river (San Lorenzo) flows from Durango, there was a lot of snow capping those mountain tops. By mid December, that snow began to melt and flow into Comedero. This caused the water temps in Comedero to reach all time lows…colder than I've ever seen in my 32 years of fishing the lake. In most years during December, the water temp on the surface should start out every morning around 74 degrees F and warm up at the hottest part of the day to around 88 or 89 F. However, this didn't happen this past November and December. In my 32 years of fishing Comedero, I had never seen the water temp drop below 70 degrees… until this past season. In late December and into early to mid-January, I was there and witnessed water temps starting out as cold as 66 and 67 degrees. Now that may not seem cold to most anglers that fish lakes in the U.S. during December and January but on the west coast of Mexico, that is EXTREMELY COLD!!! Bass, like most animals and particularly fish, do not react well to major changes in their surroundings. These major changes will cause bass to seek different areas to set up shop… and major changes such as drastic water temperature drops will certainly affect their feeding patterns and times… because the water temperatures not only affect the bass but also affect the bait fish such as the Tilapia and shad… the food for the bass. Therefore we experienced some very slow catches early in the season that we had not experienced in many years on Comedero. However, I knew those giant bass were still in the lake and it was only a matter of time until the conditions returned to normal and those big hawgs would begin to show up and feed again. We saw the change back to normal slowly start to come around near the end of January and early February.
In "normal years" there will be 3 major spawns occur on Comedero and most mountain lakes in western Mexico… and those months are January, February and March. Since the all time COLD water temps took place in November, December and through "most" of January, there wasn't much of a spawn happen in the month of January. This meant that group of bass that would normally spawn in January, would either abort those eggs this year OR spawn in one of the two latter months (February and March). Well, as it turned out, February was slower than normal with the bass spawning and that could only mean that March, which is normally the month for the late spawn bass, would probably be HUGE … and boy was it just that… HUGE!!!
Longtime friend and top notch angler J.W. Peterson of Dallas, TX had scheduled 2 weeks to fish Comedero and bring his customers/friends starting in late February and fishing through mid-March. Prior to J.W. arriving Comedero in late February, I spoke with him by phone to give him an update. The first thing I told him was the fishing had been very slow on "Big Bass catches" due to the colder than normal water temps. I told him that we had seen our customers catching big bass every day but not in the vast numbers we had grown accustomed to in the past 15 – 20 years. I also told him that I truly believed those bigguns were still in there in big numbers and if we don't see any more drops in the water temps, he should be in line to have some big time catches during his 2 weeks. Well, that turned out to be the understatement of the year! Let's get to it… shall we?
In the 2 weeks J.W. and his groups were at Comedero, they landed bass of 13.1 lbs (J.W.), 12.3 lbs (B. Altemus), 3 of 11 lbs, 6 bass of 10 lbs, 13 bass weighing between 8 – 9 lbs and too many bass to keep count of in the 5 – 7 lbs class! It's no coincidence that this happened AFTER the water temps returned to more normal temperatures, starting out each morning around 74 degrees, which is not normal for March but warm enough for those big sows to move up out of deep water and spawn. The 13 pound giant landed by J.W. wasn't his all-time best nor was it his all-time best on Comedero as he's fished the lake for almost 25 years and had landed a monster 14 lbs bass from Comedero in 2006. However, that 13 lbs toad was his second best all-time on Comedero, and as J.W. put it, she put up one of the most exciting battles of any bass he's ever caught. Congrats to J.W. and his friends for their magnificent catches and proving once again that Comedero is as good as any trophy bass lake in the world today!
YOU WANT A GIANT BASS ON TOPWATER? COMEDERO IS CALLING YOUR NAME!!!
For more than 20 years or since the Florida Bass stocking my father and I conducted at Comedero in the late 80's and early 90's grew up (by 1997), Comedero has proven to be THE BEST lake for catching trophy bass on topwater. Many of our customers that fish Comedero for the sole purpose of catching trophy bass on topwater lures, will attest to this FACT! Many of those topwater fishing enthusiasts will bring only topwater lures and fish them all day, from their first cast of the day until their last cast of the day, and hook big bass all day, even during the hottest part of the day!
Here's a topwater story for you, and it's not a fishing "tale." John Billy Koonsman of Snyder, TX has been fishing with me in Venezuela, Brazil and Mexico for more than 30 years. He never misses a year of fishing Comedero, at least not since the late 90's. JB fishes Comedero 3 times each season minimum. Last October, prior to opening our operation and fishing season beginning (Nov), John Billy and our annual group of Life Members traveled to  fish Comedero before we opened the lodge. I had told them I would open for them if they insisted on going but October would not be the ideal time to fish the lake because the rainy season was still ongoing and the lake had risen almost 80′ over the previous 60 days! However, they insisted on coming and said they didn't care if they don't catch a bass… they just wanted an opportunity to fish the lake at a time they've never been there. I said
"Oooookaaaaaay… but don't get upset if the bass don't cooperate." Well, personally I knew they would catch some bigguns as I've fished the lake every month of the year throughout my 32 years in Mexico. However, I knew those bass would be scattered… really scattered. There was a lot of new green vegetation laced all along the shoreline and tons of it submerged in the water. The shad and Tilapia would be scattered throughout that fresh vegetation feeding on the new algae growing on that vegetation. So that meant, NO bait fish schooled up and no bass schooled up! That said, I did believe the best lure would probably be a surface or topwater lure, especially fished up in that scattered green vegetation. Well, twist these anglers' arms, especially John Billy's arm, because J.B. only fishes with topwater on Comedero. J.B. knows that lake well and he is not about catching "numbers." Nope, only BIG BASS! He's done it many times for many years on Comedero, and has landed a lot of giants fishing only topwater! The group was fishing 7 days in early October and it didn't take long to figure out that the bass were not schooled up in big bunches. It also didn't take long to figure out that a topwater lure would be more effective, if one wanted a giant. J.B., keeping with his usual, fished from first safe light until lunch, broke for 2 hours, headed back out at 2 pm, fished until 5 pm and went in early, even though it was still safe light for fishing until 7:45 – 8 pm. During that week of fishing, J.B. smoked everyone as he landed bass of 10 lbs, several 9 lbs, and many bass from 6 – 8 lbs, ALL ON TOPWATER, and ALL DAY LONG!!! You ask if he fishes a particular topwater? That answer would be a firm YES: Strike King's KVD Splash! Their larger model of KVD Splash! Of course J.B., knowing how big the bass are in Comedero, "tweaks" that KVD Splash and replaces the factory hooks with much larger hooks, and it doesn't kill the action of the lure! He calls it a JBK Splash… lol. Whatever works, and it obviously works for J.B. Just for the record, I also prefer Strike King's KVD Splash. It's by far my favorite topwater for catching giant bass on the surface!
ANOTHER COMEDERO TOPWATER GIANT BASS STORY…. Fast forward to this past April on Comedero. This time of year, especially April and May when the air temps are nearing low to mid-90's for daytime highs, the water temps on the surface are "normally" ranging from 80 in early morning to 88 in mid-afternoon. However, not this past season! That snow melt early in the season kept the water temps cooler than normal even in late spring. Therefore we saw a lot of big bass landed on topwater late in the season, and particularly in early to mid-April.
John Billy Koonsman… yes, that guy we just spoke about… returned with his friends in early April but this time J.B. brought his daughter Shana Koonsman May. That was a big mistake… big mistake ONLY if the guys didn't want to be out-fished by a lady angler… because that's EXACTLY what happened during their 7 day fishing week of April 12 – 19. We have many great lady anglers that fish with us each year. Shana is one of them as she has many big bass on her resume. I have personally fished with Shana and she can do it all… extremely skilled and versatile! Shana fished with her father J.B. every day… and that meant, she fished TOPWATER! During their week of fishing, Shana landed one bass of 11 lbs and two bass of 10 lbs… and many bass from 6 – 9 lbs. Yes, J.B. caught his share of big bass from 6 – 9 lbs… but Shana caught the most and the largest of the group during their 7 days! Oh and… she caught ALL of them on that Strike King KVD Splash! The rest of the group did well catching big bass on their Strike King Rage Tail Thumper Worms and Oldham Jigs trailed with the Strike King Rage Tail chartreuse/pepper Rage craws. That's always a given on Comedero, and most lakes for that matter. However, the point being… if you're a topwater fan… especially a big bass on topwater fan, then you need to come fish Lake Comedero and catch that big bass of a lifetime! The opportunity is better at Comedero than any big bass lake I've ever fished in my lifetime!
SECURE YOUR COMEDERO DATE NOW…SERIOUSLY!!!
As I mentioned in my last update a few weeks ago on Lake Picachos, our space is filling up fast… and many dates are already gone! Almost two years ago I mentioned this about Comedero and many did not take me serious… thus missing out that next season. I also mentioned at the time that we were booking space two years out for Comedero… and it's still happening. If you want the opportunity to fish the best trophy bass lake in the world this coming season, you MUST call us soon! If you have a date in mind, please have an option B or C to present to our sales staff when you call. If all options are booked full already, then I STRONGLY recommend you ask Bill or Matt in my office to put you on a wait list. We have wait lists for all dates that are showing full and many times people clear those wait lists as we do not allow people to sit on dates for long periods without deposit paid. So just because a date is showing full when you call, don't give up. People's schedules and plans change and many times our customers get cleared from the wait list and get that date of choice. Just be patient. Even better… call now and get your date of choice before it's filled. We are the leaders in Mexico Bass Fishing operating on 3 great bass lakes (El Salto, Comedero and Picachos) and we have a large following. Many have experienced not only our great fishing but also our great food and services… and offering the best bass boats in Mexico! Call us TODAY and experience it yourself!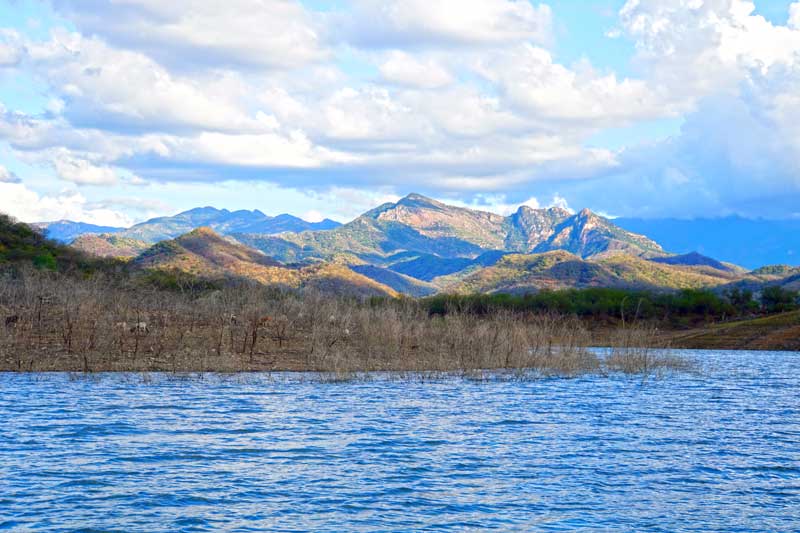 MARTIN TRAVEL SERVICES…THE BEST TRAVEL AGENCY IN THE BUSINESS!!!!
We have been using as well as referring our valuable customers to Martin Travel Services in Florida for almost 20 years! There is a reason we refer our valuable customers to Martin Travel… because they are the best… THE BEST! They are very competitive with the fares they offer on flights to Brazil and Mexico which is where our fishing operations are located. They not only arrange your air but also your hotel stay in Mazatlan. We have been using the 5-star El Cid Resort hotels in Mazatlan for 20 years and if you book your hotel stay at El Cid through Martin Travel, you will receive our Ron Speed Jr's Adventures' "special rate" for RSJA Customers ONLY! Martin Travel can arrange everything for you in ONE phone call. They will take very good care of you and make your arrangements hassle-free. Martin Travel can also arrange your air and hotel to other vacation destinations or to any place in the world! Furthermore, if there is a delay with your flight or something unexpected happens with your flight, you can call Martin Travel and they will assist with dealing directly with the airlines to fix your problem. Simply put, they are absolutely wonderful. Call them @ 800-627-8468.
Call us today: 800-722-0006
GOOD FISHIN',
RON SPEED, JR.