Spring 2020 Mexico Bass Fishing Newsletter
[Editor: this article first appeared on www.ronsfishingblog and may only be used by permission of Ron Speed Jr.]
HOLA FROM MEXICO!!!
That's right folks, I arrived here in Mazatlan on March 6th and since that time our U.S. borders to the north and south have been closed. However, some flights are still traveling in and out of Mexico from the U.S…to include Dallas to Mazatlan roundtrip. Now this in no way should be interpreted to mean I want you coming to Mexico for fishing or any other non-essential reason. No…just the opposite. I encourage ALL to remain home and follow the guidelines currently in place to prevent contracting and the spread of the Coronavirus. Your life and the lives of ALL are more important than fishing, travel, vacationing, etc…and that's the only thing that matters. Everything else should not enter your mind until the "green light" has been issued by our country's medical experts who are overseeing this current pandemic. Also, I will be monitoring closely the situation in Mexico and particularly the state of Sinaloa where our 3 fishing lodges/operations are located. The situation both in the U.S. and Mexico must be considered safe for travel before I decide to open our fishing lodges/operations. Please be safe, follow the guidelines and know that each and every one of you are in my prayers.
WHAT IS HAPPENING WITH RSJA AND THE FISHING OPERATIONS???
Currently we are closed at all of our fishing operations as the fishing boats are now out of the water and placed in dry storage. I waited here until our last groups returned home (March 21) before deciding I would consider heading back home myself. In our office in Texas, Bill is still going to the office "alone" as he lives 3 minutes away…and he will continue doing so unless the local situation changes. Thus far, or as of this writing, there has not been a "shelter in place" policy enacted by the local authorities. Therefore, if you have any questions about your upcoming trip (May and beyond), you can contact our office and speak with our office/sales manager Bill Mullins.
Please know that we have completely sanitized our three fishing lodges as we always do but given EXTRA attention to the sanitizing process. That includes every house, room, bathroom, door knobs, faucets, tables, chairs, light switches, bed, bed linens…you name it, it's been zapped! We will continue this sanitizing process throughout the shutdown as we do even when we have customers. When (not if) we get the "all clear" notice with this virus and feel it is safe to travel again (domestically and abroad), we will reopen…in fact it "could be" this season if that all clear is given and we haven't yet entered the monsoon season. Safety first though…that's always been PRIORITY #! with us…and everything else is a distant 2nd. Most if not all of you already know this about RSJA.
LET'S TALK FISHING…YES???
It may not "appear" to be the right time to discuss less important matters such as fishing…. However, if you're like many, hunkered down in your home and nothing to do, I figured I would give you an update as to the most current fishing status at each lake. I know many of you are still booked for the months of May/June this season and would probably like to know an update. So here ya go…
Lake Comedero….well, it's been a tough season thus far. I am not one to make excuses but rather give you my opinions of what's happened to cause the tough fishing…and my opinions are based on 32 years of fishing Lake Comedero. Most things that happen on this lake, I've seen before. However, like last year/season, new things showed up this season. Last year it was snow melting up in the mountains in Durango, and both rivers that feed into Comedero are from those mountains. That caused water temperatures on the surface to drop to 5+ degrees colder than I had ever seen in over 3 decades. The water temps did not return to normal until the end of February and when they did, so did the fishing…returned to normal. Again, that was last year. Now fast forward to THIS year (season)…
Oh boy, what a bizarre year for weather in Sinaloa. Normally the monsoon season ends sometime in October…could be mid-October or the end of October. Rarely do we see any type of significant rainfall after November 1st and especially after November 15th…unless it's an "El Nino" year…and we're not in an El Nino year. However, someone forgot to send Mother Nature the memo because Thanksgiving week, we received 4 straight days of torrential downpour and Comedero rose approximately 20 feet in less than a week. That completely disrupted the bite and depths the bigger bass usually inhabit during that time of year…sending those bigger bass to deeper water and suspending. Anyone that truly knows bass fishing will tell you that deep suspending bass are the toughest to get to bite. December groups found the fishing extremely difficult….and we're talking mostly the "bigger bass"…which is the primary reason for choosing Comedero…BIG BASS!
By the time Christmas rolled around, the fishing seemed to come off life support as I had our on-site mechanic "Cuate" checking the lake and fishing daily during the holidays. Cuate is a VERY good angler and knows Comedero better than anyone. I was encouraged by Cuate's updates through the holidays. We were excited for our first group of the new year to arrive on January 3rd. Then 3 straight days/nights of rain hit us from December 30 – Jan 1st…once again bringing the lake level up…which submerged the tons of green vegetation on the shore from the monsoon season…thus causing more decaying of that vegetation and the "sour water" process to prolong. Again, bad luck with something that rarely happens or never has happened. Still, I was optimistic that sooner or later, conditions would get back on the NORMAL track and big bass catches would return.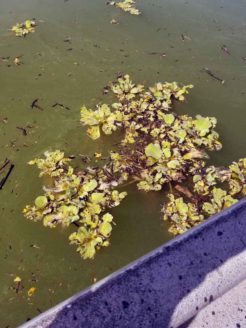 The tough bite for big bass continued through January and the sour water was slow to leave as we experienced many cloudy days with no wind to move that soured water or to also generate oxygen that was "cut" by the soured water. Many anglers, to include Pro Angler Denny Brauer, found big bass on the sonars….but deep and suspended…and very few willing to bite. Just as it appeared to maybe, just maybe things were about to return to normal, we received yet again….3 straight days and nights of solid rainfall in early February. This time it was COLD rains with air temperatures dropping to 40 degrees. When was the last time it reached 40 degrees at Comedero? In that part of Sinaloa? I can only remember one time it reached that low in my 33 years operating in Sinaloa…and that happened approximately 9-10 years ago when it reached freezing temps and Iguanas were falling out of the big Tule tree at our El Salto camp. These 3 days of rain were not torrential at the lake but obviously torrential up higher in the mountains as that caused ANOTHER rise in the lake level. Jeeeezzz…when will it stop??? Well, ten days afterward (approximately), after that 3 days/nights of rain, we had a group that seemed to find some big bass biting. Mostly suspended in 25-35 feet of water. Mark Ingram landed a giant of 11 lbs, 7 oz. Several others landed by J.W. Peterson's group were 9.8, 9.0, 8.4 and 8.0…all in the same day! Yes, maybe it's turning the corner….oh wait….oh nooo….well, not another rain but obviously the constant cold rains combined with temperatures starting to warm up set off a nasty Algae Bloom! Never…not once, has there been an Algae Bloom on Comedero! This was probably the worst thing that could happen other than the lake turning over as Algae Blooms almost always cause a major oxygen depletion in a lake. Something Comedero could ill afford to have happen after oxygen had been very low for months due to the vegetation rot and soured water. See photos of the Algae Bloom and temporary aquatic vegetation that appeared.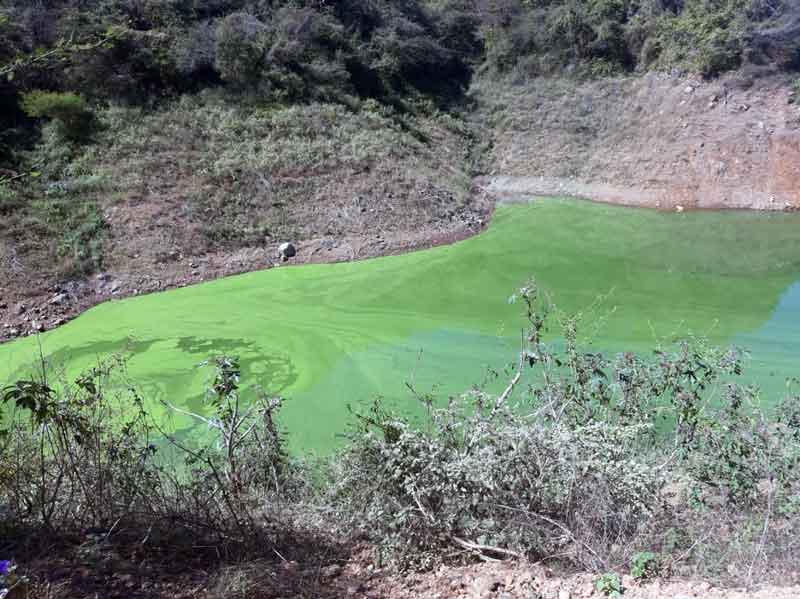 This algae bloom stuck around for several weeks…at least in appearance with the green slime covering 60% of the lake. However, the oxygen depletion remained right up until we closed the camp March 21st. I arrived at Comedero on March 6th to fish with my older brother John Speed. He and I hadn't shared a boat on a lake in more than 20 years. He was there as he always is during his spring break from school and football coaching. I told him the big bass bite had been tough but numbers were pretty good on smaller bass because smaller bass don't require as much oxygen as the older and larger bass. Still, we were going to have fun regardless…and we did! The first 4 1/2 days were cloudy and no wind…meaning nothing to generate oxygen. We averaged about 40-50 bass per day but nothing over 6 lbs. Then the afternoon, starting right after lunch on the 5th day of fishing, we had about a 20-25 mph wind coming in off the Pacific…and total sunshine! Now that is normal and what I believed at the time was just what the doctor ordered!
Sure enough, John and I each landed bass of 8 lbs…his coming off a Strike King 8xD crankbait (sexy shad color) and mine coming off an Oldham jig (5/8 oz in Tilapia color). Don't think that first day of wind in 5 days had anything to do with it? Naahhhh….of course it did!!! Then on the final day after 2 straight days of 15-25 mph wind, John busted a 10 lbs 4 oz giant on TOPWATER…at exactly 10 am! His giant was caught on Strike King's KVD Splash…which has been the best topwater on our 3 lakes day in and day out for over a year! What a difference a little wind and oxygen boost does for a lake and big bass suffering from low oxygen.
For the next week, the no wind returned and big bass bite was tough…until closing.
Final analysis….The bigguns are still in there. Many anglers who have fished Comedero for more than 10 years to include myself for 33 years, could see layers and layers of big bass suspended in deep water on our Lowrance sonars. Thermocline reached deeper than 50 feet at times and thus gave those big bass "more options" and places to get away from the more tainted (algae bloom) and low oxygenated shallower water. This was just "one of those years" that the tough bite sets in due to whatever and however many combined reasons. Just like I wrote about it happening at El Salto one year ago….but this year, the fishing at El Salto was much better than the previous year…in fact, at one time during Jan/Feb, it was the hottest of our 3 lakes! So let's talk about El Salto next…
Lake El Salto
…as I stated above, the lake rebounded from a very poor fishing year in 2018/2019. The fishing started out slow in the fall, then "the flood" hit at Thanksgiving…but El Salto does not receive nearly as much runoff from rains as does Comedero. Therefore the lake didn't rise as much as Comedero and the fishing was quick to come around by the first of the year. By the second week of January, we had group after group landing 80-100 bass per day and with many bass from 7-9 lbs…even a few 10's as well. This great fishing lasted a full 2 months in Jan and Feb….but then things began to slow down a bit by early March. Both numbers and size dropped when compared to Janauary/February but overall the fishing was still decent….and NO ALGAE BLOOM! One thing that seemed to be helping enhance the bite more this year was when the water hyacinths returned…which always enhances the shallow water bite but also limits the number of commercial nets on the lake. That alone (less nets) probably played as big of a role in the enhanced bite (both numbers and size) as anything. The bass, especially the older/bigger bass, know when those nets are in there with abundance…and when that happens, they head south…south meaning DEEP!
If we get the green light or "all clear" on the virus and to resume travel and fishing south of the border, and…and…it happens in May, June or early July (before we close for monsoon season Mid-July), then I fully expect El Salto to be as good as any lake for big bass catching! Even with the poor fishing season we had there a year ago, May to mid-July was OUTSTANDING!!!! Most years it always is outstanding in those months. No nets in the lake and the bass are predictable…easier to isolate. Fingers crossed we will be able to "safely" travel there and fish in a couple of more months. Time will tell…hopefully soon!
Lake Picachos
…well, let me start with saying that even when the bite is tough, you're still going to catch a lot of bass! Now let's discuss how the season has been thus far. The season started in late October when our first groups arrived. The fish were still a bit scattered from the water rise from the rainy season. Once again, the lake caught FULL as Picachos is on a major watershed and with it being approximately 14,000 surface acres when full, it does not require as much rain to fill the lake. By November 15th, the fish were starting to school up in big bunches again and not as much "run and gun" by the guides to put our customers on fish. Then "The Flood" hit over Thanksgiving (as mentioned above) and the lake at that time was holding at about 94% full…but that flood sent it over-full and water flowing over the dam. Fish scattered again…but most boats still averaged 80-100 per day…other boats 60-80 per day. Most bass caught were 4 lbs and smaller with a "few" big ones up to 8 lbs caught during that time. As with Comedero and El Salto, things seemed to settle down by Christmas Holidays ….then the 3 days of rain over New Years hit and bam…fish scattered again. Numbers still good but big bass scattered and suspended.
I arrived at Picachos on January 24th with my friend Rick Pierce and his wonderful group. The lake was around 95% full. Many in the group asked me what I would recommend they use for lures and catching bigger bass? I told them I had not been on the lake in a couple of months and only have our daily fishing reports to go by…and those daily reports don't always tell the tale of how to catch big bass on Picachos since "most" are strictly there to catch numbers. However, knowing the lake as well as I do, I know the bigger bass prefer to stay deep and not compete with the smaller and faster swimmers (bass) that dominate the shoreline. Seeing the lake higher than I had ever seen it in January due to all the unseasonal rains,and pre-spawn starting with the early Februrary moon around the corner, I recommended they fish spinnerbait (preferably Oldham's spinnerbait) in tree tops down 15-20 feet along creek channels..that's tree tops down that far but from surface to bottom might be 25-35 feet. That first morning fished with my good buddy Rick and he wanted to flip/pitch the banks…and we did just that. I love to flip/pitch…anywhere, anytime…but I knew deep down this probably wasn't going to produce a lot of bass over 4 lbs…and it didn't. We had a lot of fun and good conversation though…and went in for lunch with approximately 40 bass caught. At lunch I preached to some of his group about moving offshore and focusing on the tree tops for suspended bass….which I believed would produce bigger bass. So that afternoon Rick and I headed for the creek channels and tree tops using spinnerbaits. Right off the bat I hooked and lost at the boat a nice big bass that I believed to be in the 7 lbs range. Rick and I stayed focused on that pattern the rest of the afternoon and landed a good number of 4 and 5 lbs bass. However, two men in his group had heard me talking at lunch about fishing bass suspended in the tree tops and they decided to do the same. They didn't have any spinnerbaits and thus chose to throw big Super Flukes with a small 3/16 oz weight…just letting the big Fluke flutter down in tops 15-18 feet…. and wham! They hit paydirt with a lot of quality fish. They landed more than 40 bass over 4 lbs just that afternoon! That pattern held up those 3 days that group fished with most beating the shoreline with Senkos and Lizards…catching a lot of bass but mostly 1-3 lbs. Those that moved offshore for suspended bass caught bigger.
Next group arrived… Mr. John Barns (former President of Strike King) and Rob Carter (owner of Fishin' World Tackle Store in Dallas). The suspended pattern was still working but this group had their own minds made up on how THEY wanted to catch bigger bass….and their pattern worked. They mainly used Strike King's Thunder Cricket (their version of the chatterbait) and 8xd and 10xD crankbaits….on points with less brush. John and his partner got into a bunch of bigger bass waaaaaaaaaay up the river one afternoon and landed one bass of 8 lbs and many 5-6 lbs bass. Rob Carter did the same with the 8xD and 10xD crankbaits off slick points. Most boats averaged over 100 bass per day…some up to 100 bass by lunch break.
Then the 3 straight days/nights of rain happened early February and ugh….well….the lake rose to over full pool again, water going over the dam and lake completely swollen! The bass scattered again and made it difficult to find any schools of bass. Basically 2 or 3 here, 2 or 3 there…and keep moving. That lasted about 10 days until the lake began to fall again and the "norm" resumed. Then it was back to big schools and numbers…and for those wanting the bigger fish, they could get it by moving offshore for suspended bass using crankbaits and spinnerbaits.
After fishing for 7 days with my brother at Comedero, I moved down to Lake Picachos on March 16th to meet a new Picachos group and my good friend Terry Oldham. I told them that March is usually when the first group of shad spawn and those mud flats and humps with very little brush should be the primary targets. Boy was it ever! The first day Oldham found 3 different schools of bass (many 4-7 lbs) while I found 2 different schools…also holding a lot of 4-7 lbs bass. At one point on one of my schools, I caught 16 bass in a row using 10xD crank over a 25′ slick hump…and every bass I caught had either a threadfin or gizzard shad in its throat! Oldham's schools were the same…and he landed one beautiful FAT 8 lbs bass using a Spro Aruku Shad chrome color ! (see photo). These schools were all within 3 minutes (or less) from our lodge! Then one of my boat of customers, a father/son of Colin and Landin Saunders, got in on the action…catching over 100 bass in one spot and tied to a bush. They caught several dozen over 4 lbs in that one spot. The next afternoon, a different father/son of Robert and Mason Krantz landed over 200 bass in one day but it was the afternoon fishing that day they'll never forget as they landed 150 that afternoon alone…and they said at least 30 in the 5 and 6 lbs range! That is as good as bass fishing gets….no doubt! Unfortunately, that would turn out to be the final group and fishing before the borders were shut and we closed our camps.
Reservations for this and next season…as stated, it's not a matter of "if" but rather "when" things get back to normal and this invisible and deadly virus is sent back into hiding…and lives get back to normal. Due to having to close the camps for an indefinite period, many groups that were scheduled to fish in late March and all of April will be rescheduling for later this season (if we are able to reopen this season) and for sure next season. This is going to put a premium on "open dates available"… especially for next season. We were already filling up for next year but now those dates that were once open will be gone soon. If you plan to fish with us next season, I recommend calling our office soon to get a date while some are still available. If you want to wait to see how this virus plays out, that's completely understandable. Just giving you a heads up on how I see this playing out as I truly believe that things will be back to normal long before next season rolls around…and dates will be tougher to come by if you wait too long.
Hang in there folks, be patient, lean on the Lord as I choose to do…and eventually this will be in a rearview mirror.
Call us today: 800-722-0006
GOOD FISHIN' AND GOD BLESS,
RON SPEED, JR.