Picachos – Best Action; El Salto – Consistent as Always
[Editor: this article first appeared on www.ronsfishingblog and may only be used by permission of Ron Speed Jr.]
LAKE PICACHOS…BEST ACTION BASS LAKE IN THE WORLD!!!
Bass action for sheer numbers and quality size just doesn't get any better than Picachos! It's like hitting the rewind button with these updates but the insane numbers and hundreds of testimonials from returning ecstatic customers continue to roll in every day! I realize that many of you that have yet to fish Picachos, probably have doubts as to the accuracy of these updates but let me assure you that the reports are coming straight from the "horse's mouth"…the paying customer! All of our guides have "clickers" and also keep count of the daily catches so as to reaffirm the numbers reported to us by our fishing customers.
Here are some recent testimonials…

Richard Carlile wrote on April 17, 2017 –
"Ron, The only thing I can say about our trip is wow!!! Everything is just like advertised. Short ride to the lake. The lodging is very adequate with complete privacy, acknowledging our every need, including bringing in a masseuse! The staff couldn't have been nicer, the food couldn't have been better. And the fishing, oh my goodness the fishing! I've traveled to most all of the hot bass lakes in Mexico over the last 40 years. I've certainly caught numbers before, but never before have I caught numbers and quality like we did on our trip. Almost all of the fish we caught were solid 3 to 5 pounds, with an occasional 6 and 7 and even an eight thrown in. I try not to dwell on the numbers but I know you need them. On Saturday morning the 15th I was fishing alone and by lunch I had 157 bass! Everyone caught good fish every trip out with varying "votes" of having the morning or the evening of a lifetime. We had such a great time. I know that an operation like yours takes a lot of work and we all really really appreciate it and everything everyone did for us. Looking forward to our next trip already"
Cathy & Mike Wheatley; Mike wrote on April 20, 2017 –
"Ron Jr… What a great 7 days in Mexico! The first 3 days at Lake Picachos and the last 4 days at Lake El Salto were outstanding. Picachos was phenomenal with all the 3, 4, and 5 lb fish. Also the scattered 6 and 7 lb'ers. Every boat had triple digit fish numbers every day. We had several father/son teams on this group and 1 – 3-generation groups. El Salto was once again meeting everyone's expectations. With 5 husband/wife teams going out, the ladies showed the men how it was done. The ladies had several 7, 8, and 9 lbs lunkers. One couple had a 90 + fish morning. Cathy & I have witnessed the up and down cycles of fishing on several lakes over the past 20+ years of guiding and travels. We feel so lucky to be a part of 3 fabulous lakes that Ron Speed Jr. operates on. All three are on a great uphill swing for the next several years. The staff at all three lakes go above and beyond to make everyone's dreams come true. Be ready to go on a diet when you get back home."
Again, we receive these types of reports and testimonials every week, if not daily throughout the fishing season! This lake is currently the hottest bass lake in the world for insane action and numbers! It would also rank as the best ALL TIME for numbers… at least in my opinion. I was fortunate enough to fish famous Lake Guerrero before it first opened in the early 70's. Those were some incredible days of sheer numbers of 3 – 5 pound bass on topwater! Especially a black "Lucky 13″… and I thought I had died and gone to Heaven! However, while the numbers of 100+ bass per day/per boat continued for about 6 years on Guerrero, that average size of 3 – 5 lbs only lasted about 3 years. This was due to the lake, while huge, being very shallow and those commercial nets could reach the bottom in most areas of the lake. Due to the size mesh of the nets, the locals were able to completely wipe out the middle-size or larger-size bass in the lake. By 1977, the average size dropped to 1-2 pounds per boat/per day. This is not the case at Picachos as the average size continues to increase each year! There are already some big trophy bass in the lake but until the overall numbers of smaller bass are "weeded out," those bigger bass are not going to hang out in the shallows and compete with the smaller and faster swimmers. This is something I continue to reiterate in my updates… if you want big fish NOW, go to Comedero or El Salto. We have first-class operations on both of those lakes and they're two of the best trophy bass lakes in the world! You want to catch bass until your arms fall off? Picachos is your lake!
Our lodge at Picachos is the largest and nicest on the water with a breathtaking view of the main lake! Our food and service is second-to-none and I'm constantly told this by our happy customers upon their return. We offer prime cut 1 1/2″ thick, mouth watering grilled Ribeye steaks. Also a seafood fest night with huge fresh shrimp from Mazatlan prepared 3 ways and served on a warm "Hibachi" grill as well as fresh delicious Lobster from Mazatlan! Add to that is tasty fall-off-the-bone barbecued ribs and last but not least, a delicious Mexican food feast night! Our appetizers are a HUGE hit with our customers… from freshly-made guacamole and salsa prepared table-side to jalapeno poppers wrapped in bacon and filled with cream cheese… as well as nachos! Deserts… again, ours are second to none. Our famous Jack Daniels flavored bread pudding with or without a scoop of vanilla ice cream is a huge favorite! We also offer a local favorite of flan as well as choco-flan (my favorite), various cakes, pies and ice cream flavors! To put it in a nutshell… you will not lose any weight on our trips! 😉
Our boats… again, second to none. Our boats on Picachos (and Comedero) are 17′ Xpress all welded aluminum… the best in all of Mexico! Our boats on El Salto are 18 ft all alumaweld Xpress. Xpress makes the best all welded boat on the market….PLAIN AND SIMPLE! All of our boats on Picachos are equipped with front/back fish sonars as well as powerful 24-volt Minn Kota 70 and 80 Maxxum trolling motors. The big motors are 60 HP Yamaha 4-strokes… again, the best motor on the market!
We offer first class fishing rods at all of our lodges. These rods are Dobyns Rods and our customers absolutely love them. We have various models/sizes of Dobyns Rods to meet your needs! From medium heavy fast action to medium action rods as well as 7′ 6″ flippin/pitchin rods by Dobyns! We offer these rods as a convenience to our customers so you do not have to lug those big heavy rod cases to Mexico! Add to that, starting last January, American Airlines enforced a new luggage embargo on its passengers and now you are allowed only ONE checked bag if you fly coach class. Business Class passengers may check TWO bags max. So our customers really appreciate our providing these fantastic rods!
Call us today to come experience the best action bass lake in the world with the nicest lodge, best food, best staff, best guides and best boats on Picachos!!!
EL SALTO … IT'S MONEY…CONSISTENT AS ALWAYS!!!
What is there to say that hasn't been said many many times before? It's just one more great lake that continues to churn out a lot of good quality bass and some bigguns too! This year our customers have seen the lake maintain that daily average of 60-80 bass per day… with many boats catching 100 or more per day! Every day we'll have several boats of customers land bass in the 7-10 lbs class and most if not all will land a good number of 5 and 6 lbs bass! This time of year is when we see El Salto and all of our lakes in Sinaloa at their lowest water levels. May and June are the last two months of the dry season before the annual monsoon season kicks into high gear in late June and early July! This is a time when our fishing guides and customers can really isolate those big bass! It's also a time of year that we have some of our largest bass caught for the entire season! The local commercial fishermen have removed the nets from the lake (as of May 1st every year) until September so for the next few months, the lake is just sport-fishing anglers ONLY!
Those that fish El Salto should do so primarily for the purpose of hooking/landing a trophy bass. Just up the road from El Salto we have a lodge operation on Lake Comedero… which right now is the hottest trophy bass lake on the planet! For you die-hard trophy anglers, you could not have a better setup than what we offer in Comedero and El Salto. The two lakes are only 1 1/2 hours apart, and both are completely paved all the way to these lakes! Comedero opened in 1987, El Salto in 1990. We have been operating on these two lakes since their opening and we've seen them great and we've seen them not so great. However, we've rarely seen both not so great at the same time, and most of the years, they've BOTH been great. Therefore it only makes perfect sense to try and plan to fish BOTH LAKES in the same trip! The percentages say you will have a very good chance to hook that giant bass of a lifetime and quite possibly many of them! We offer COMBO PACKAGES for all of our lakes with 2 or 3 days at each lake or we can customize a combo that best suits your desire, space allowing of course. Right now we're adding more boats and housing to Comedero so we can match the lodging capacity of El Salto and offer more BIG GROUP COMBO PACKAGES! Opportunities to fish two of the very best trophy bass lakes in the world during the same trip do not occur often, but we are the only outfitter that is providing you with this opportunity at both lakes! We've had many customers these past two years take advantage of this golden opportunity and they did not regret it. A trophy bass fisherman's dream come true!!!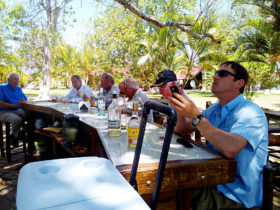 We just finished our new bar at El Salto with new patio tables and chairs. This new bar is located out by the giant 130-year-old "Tule" tree next to the shore. Everyone loves to come in from a long day of fishing and watch their favorite sports team on the TV at the bar and have some tasty cocktails and Margaritas! Such a great setting and place to unwind! This bar area has always been a big hit but now it has a totally new look and comfort level. Add to this we have flat screen TV's in each room, individual air conditioning in each room, huge porches with those comfy huge rockin' chairs that everyone loves… a big nice restaurant with a huge indoor ground floor aquarium stocked with bass. This lakeside lodge facility is just a nice little paradise on one of the best bass lakes in the world. Come experience it yourself… you'll absolutely fall in love with it!
INTRODUCING OUR SPECIAL FRIENDS …STEVE & MICHAEL NOVY!
This past February I was truly blessed when given the opportunity to meet an amazing young man by the name of Michael Novy and his wonderful father Steve. This opportunity was during a trip to Comedero and Picachos. Steve and Michael were fishing our 8-day custom Combo Package of 5 days at Comedero and 3 days at Picachos. Steve and Michael had been on several of our trips to Comedero and El Salto in recent years as well as our peacock bass fishing trip in the Amazon, but this was my first time meeting them. To say I was impressed is an understatement. Steve is a first class gentleman that has traveled all over the world for fishing and hunting. He's also an incredible father that makes the time for his son (Michael) and shares his love of hunting/fishing with Michael. That first night they arrived at Comedero, I went to the porch of their house where they were sitting in the rocking chairs and having some appetizers. Steve informed me that Michael had caught a 24-lbs peacock bass on our Amazon trip a few years ago, Michael's first ever peacock bass experience! He told me that Michael had an all time personal best black bass of 8 lbs and he was there to break that 8 lbs mark! Michael rubbed his hands together vigorously after Steve stated that…and told me, "YEP…I'M GOING TO DO IT!" Oh, how I like a person with confidence… and Michael was certainly confident!
Each day Michael flirted with that personal record of 8 lbs while landing many bass in the 6 and 7 lbs class. His father, Steve, did land a few bass of 8+ lbs in the first few days and they both had on some really big bass that they lost. Then came the 5th and final day. Would Michael break his personal best of 8 lbs? He was still confident, really confident the darn record was GOING DOWN! That morning they caught a lot of bass and some nice 6 pounders, but then came the final afternoon. It's like Michael went into a different zone: out for blood! Before Steve could re-tie his lure to start the afternoon of fishing, Michael had already put 3 over 7 lbs in the boat, but still no record breaker. After four more bass in the 6 lbs class, Michael landed one that matched/tied his previous record of 8 lbs… oooh, soooo close. So did Michael do it? Did he finally snap that 8+ lbs record that had eluded him for so long? YOU DANG RIGHT HE DID….SNAPPED!!! BROKEN!!! GOODBYE 8 LBS!!!! That afternoon Michael landed a beautiful 9 lbs, 3 oz Comedero HAWG!!!! To say he and his father Steve were happy would be an understatement. They both were ecstatic!!! Congratulations, Michael! You did it, my friend!
To finish that story, that afternoon Michael and his father Steve landed 8 bass over 7 pounds and quite a few in the 5 and 6 pound class! That was one amazing afternoon and one that neither of them will ever forget.
This is really what it's all about folks… father/son time and making special memories. Through all my constant travels around the world for business, I have always made the time for my two boys. I gave up fishing professionally (tournaments) 20 years ago to insure I would be there for them. It was really no sacrifice at all if a father truly loves his kids. My boys are my entire world. Steve is there for Michael 24/7 and has taken him all over the world fishing and hunting. Great job, Dad!
**Please check out Michael's fish photos from their most recent trip to Comedero and Picachos…as well as one from El Salto and the Amazon!!!
CALL US TODAY TO BOOK YOUR BASS FISHING TRIP OF A LIFETIME!!!
Call us today:800-722-0006
GOOD FISHIN',
RON SPEED, JR.