September Brazil & Mexico Update
[Editor: this article first appeared on www.ronsfishingblog and may only be used by permission of Ron Speed Jr.]
Brazil Peacock Bass Season Begins!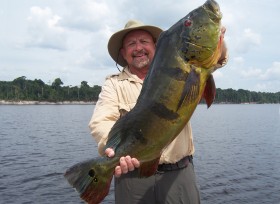 Our first group is in Brazil now and the numbers and size reports are already outstanding! The water is up approximately 2′ from where it was this time a year ago and falling approximately 6″ per day. The water level is not too high, not too low…almost perfect based upon the time and start of our first group. Of course we fish a different area of the Amazon than most during September/October and this area, as I've mentioned many times in past updates, is always falling during Sept/Oct…and that's very important for having consistently great fishing! This year appears to be no different as our first group is catching A LOT of peacocks and great size as well. Call us today to get in on the fishing while it's hot THIS season!
Book A Brazil Trip THIS Season and earn 50% off New Lake Picachos, Mexico!!!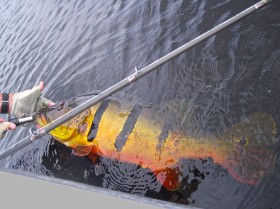 That's right folks…if you book a trip with RSJA to Brazil for peacock bass fishing THIS season, you will earn a 50% discount off one of our 3 or 4 days fishing packages to fabulous NEW Lake Picachos in Mexico! The 50% discount off Lake Picachos will be good until July 15, 2015 (the end of this season). If you are unable to take the trip to Picachos this season, you will not totally lose out on a discount as you can take the trip during the Fall 2015 through Summer 2016 season at 25% off! Either way, it's a WIN-WIN deal and allows you the opportunity to experience both the exciting and powerful peacock bass and the incredible new bass factory in Mexico…Lake Picachos! These are the two best fishing trips going in the outdoors right now…the best you'll find anywhere in the world! Don't miss out on this RARE opportunity!!!
Fly Fishing For Peacock Bass In The Amazon!!!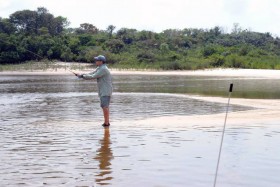 For you fly fishing enthusiasts, you are missing out on the most exciting fishing you'll ever experience if you have yet to try it on the mighty peacock bass of the Amazon! We have several groups each year that fly fish with us in the Amazon. One of those big fly fishing groups have been fishing with us every year for the past 12 years! Every trip they catch tons of peacocks on their fly tackle. Our guides are well groomed for the fly fishermen as they've had many many years of experience accommodating both baitcast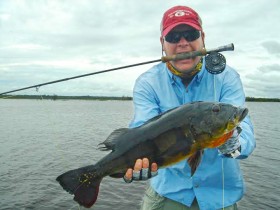 AND fly fishing anglers! No need to go "roughing it" or staying on slow moving floating operations in order to get great peacock bass fishing on fly tackle! You can get the best of both worlds while aboard the 5-star Amazon Otter Mothership. We cover a lot of water in a short time if needed. Call us today and we'll give you some great fly fishing references who continue to fish every year with RSJA and the luxurious Amazon Otter!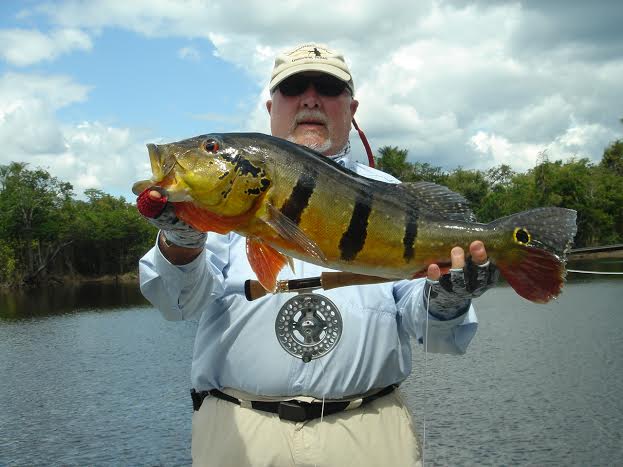 Amazon Otter Operation Offers THE BEST Guides in the Amazon!!!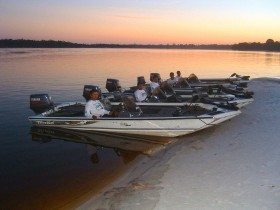 No other operation for sportfishing and peacock bass has more years of experience than we do in the Amazon…NOBODY! Our guides are by far the most experienced in the Amazon. Half of our guides have been with us the entire 22 years since this operation began…the other half of our guides have at least 12 years of experience. That folks is what we call an "A-TEAM" of guides! This is important not just for putting our customers on lots of big peacock bass but also, and even more important, for SAFETY! These guides are well experienced at operating these Triton Bass Boats and know the various rivers and tributaries better than anyone!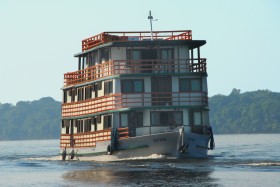 They are experts at tuning the blades on the giant propelled topwater lures as well as knowing how to tie the best knots for lures. They work constantly all day to serve you and keep you in the best fishing spots! We place a lot of emphasis on hiring and keeping the best guides! Truth be known, the guide holds the key to your success as well as ours. We know we can offer the best of accommodations, food and service of anyone but if you don't catch fish or fishing does not meet your expectations, then there's a good chance we won't get you to come back. So we make sure we have the best guide team possible…both in Brazil and Mexico! Keep this in mind when booking your next peacock bass adventures to the Amazon Basin and/or Mexico Bass Fishing adventure!!!
Big Fish Contest Each Month in Brazil and Mexico!!!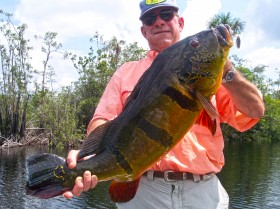 RSJA will have a big fish of the month contest at both of our lakes in Mexico (El Salto & Picachos) as well as in Brazil for our peacock bass fishing groups! In Brazil…whichever RSJA customer that lands the biggest fish in each month during the season will earn a free peacock bass trip/package the following season. In Mexico, whichever RSJA customer that lands the biggest fish in each month at El Salto, will earn a free fishing trip back to El Salto the following year. Same at Lake Picachos. Someone will win in each month and it might as well be YOU!!! Come enjoy the great fishing in both Brazil and Mexico while possibly earning a free return trip the following season!
New Lake Picachos, Mexico…Season Begins in October!!!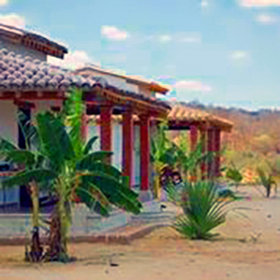 For those of you who subscribe to this blog/newsletter, you've probably read plenty of updates I've sent out this year on our new bass lake in Mexico…fabulous Lake Picachos! We have great news coming in our next update in a couple of weeks but in the meantime, know that we were the very first operation on the lake. We also have the largest and nicest facilities ON THE WATER offering individual Air Conditioned Bedrooms, Bathroom, Living room, And Kitchen with mini refrigerators as well as the best bass boats in Mexico…and the most experienced guides and staff on the lake. See above our thoughts on the importance of having experienced guides for fishing AND SAFETY! We also offer free laundry service, Internet and use of top-of-the-line fishing rods so you do not have to lug those BIG oversized rod cases all over Mexico. Starting this season (Oct.) We will also have a mini-tackle shop. We also offer the very best menu and food that you'll find anywhere in the world for fish camps/lodges! Legendary Pro Angler Jimmy Houston visited Picachos and our lodge in June. Jimmy claims "This is the best food of any fishing camp or lodge I've been to and I've been to many all over the world for the past 40 years!" That pretty much says it all, folks! From the legend himself!

One last thing before our next update in a couple of weeks…our "best bass boats in Mexico"…well, they just got even better! More on that in a few weeks!
CALL OUR OFFICE TODAY AND EXPERIENCE YOUR FISHING TRIP OF A LIFETIME!!! 800-722-0006
Good fishin',
Ron Speed, Jr.